I love layovers..
You may ask "Why?" But when they are long enough, you can see a city (or even a country) on the way to your final destination. Which was just what we did with a 14 hour layover in Toronto, Canada on our way to our 10 hour layover in London, UK on the way to Greece last year. Yea, two long layovers, most would be pissed less than happy. For us, we actually requested it! Neither of us had every left the Toronto airport. So before we move away we need to see our own country!
Enter the red eye flight from Fort McMurray to Toronto. We got in nice and early (read 6am) and luckily our bags stayed checked all the way to Greece for us, with the exception of our carry ons. We had spent time reading up on how to make the most of our layover and found that you could get a cheap "Long Layover" type ticket on the UP Express (Union-Pearson Express) for $12 return per person. Get your tickets here or right before you board the train. The train takes 25 minutes to make it from the airport all the way downtown to Union station, which is dead centre of Toronto and where all the action takes place. If you are in the airport, you just follow all of the signs that look like a train, you'll go through some walkways over the road and up escalators, around corners.. just keep following or ask for directions. It was a bit confusing at first. Please take note: You must return in 7 hours to take advantage of the Long Layover ticket.
So, I was pretty foggy by this point, as I do not sleep well on planes. AT ALL. Not to mention the scare we had prior to even leaving Fort McMurray, where I had misplaced my phone. Yea, who can go travelling for almost 2 weeks without their phone. A $125 cab ride later, my phone had fallen out of my purse when our friend came to get us and was on the floor of our living room under the coffee table. Frantic search and possibly a photo radar ticket for my speeding cabby, I didn't miss the flight and still got my last Caeser before leaving Canada.. Side note: Fort McMurray people.. take the town bus instead of a cab. It's a bit longer, but it's under 2 bucks. You can't even make it out of the airport parking lot for $2. If you live uptown you are looking at $60+ ONE WAY!! I started parking my car close to the airport and then taking the bus anytime I was flying out. Think Greely Road School.
I digress, anyways.. the places we had to go..
The Hockey Hall of Fame – Website here
Because obviously.. any self-respecting hockey fan needs to go here. Now, we were tired, and it was a bit difficult to find, but I got to touch THE Stanley Cup. The real one.. there was a nice guard chilling with it. But realistically, nobody is leaving that place with that in your bag. It wont fit. Now to get into this place, don't be like us and walk around outside, sit down inside and be confused as shit. Google map it.. then go inside and find the stairs/escalator to the basement level.. and walk all the way to the East side of the building. South East really.. there it is. And if you are like us, you were there when this place opened because you were in Toronto sooooooo early.
Here's some pics… GO CANUCKS GO! (Oh man I can't believe she put this in here!! This is Jamie, and I am going through stuff editing, and adding SEO and saw this. I am not a hockey fan, but I love making fun of Canuck fans. So…..Go OILERS!!!!)
It was pretty cool seeing all the stuff.. I was sad there wasn't much Canucks stuff though. Although I did learn some interesting facts about the Stanley cup, like they have to take some of the rings/winners/names off because there isn't enough space. So they straighten them out and they stay in the museum! Cool hey?
Next: We wanted to do the CN Tower.. but this was the type of day it was, so we decided not worth the time and money to look at… fog/clouds.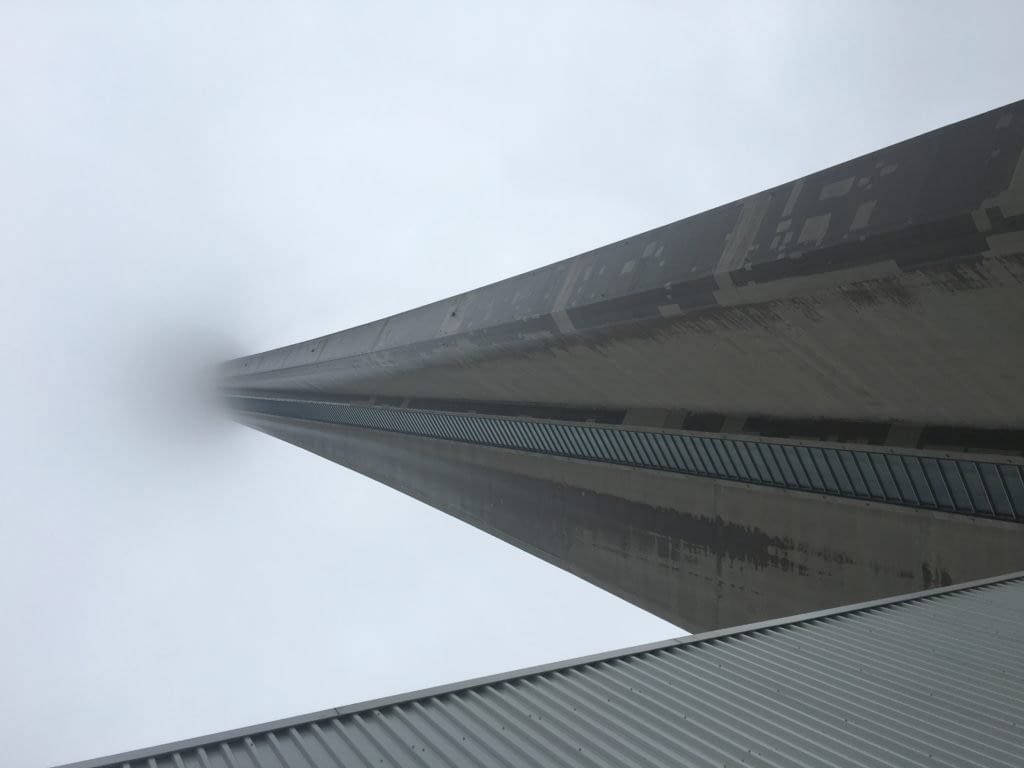 You can't even see to the top. I went again a few months later when we were evacuation from the fire, sunny day. Much better, much more worth it.
Ripley's Aquarium
Right beside the CN Tower, and a hop, skip and a jump away from Union Station is the Aquarium. Now Jamie dreams of being a Scuba Diver, and I love it as well. There is something so peaceful with seeing fish swimming. So we braved the school aged crowds of children and headed in. We could have spent hours upon hours here, standing on the moving sidewalk and just watching. You can get discount tickets on their website, and get set times to get in when it is really busy. With us, we were there on a random Thursday, so we took the chance and didn't have to wait, but it was an extra $2-3 per person to not have bought the tickets previously online. They often have special events going on though, so it is best to check ahead if you are set on seeing sharks and nemos! Often can be booked for the evening for special parties too (put that on my bucket list), so best bet is to check their calendar of events here.
Here are some of my favorite pictures:
And a nice relaxing video.. for good measure:

Our last stop before heading back to the airport and having some of the amazing food through the international gates?
Steam Whistle Brewing
This brewing company is just teeming with history. The building is unique, the steam whistle and it's history is really cool to learn about, and there is nothing better than learning about beer and then getting a cold brew fresh off the line. I mean fresh.. like just capped and stolen by our tour guide. Tastes better!
The tour guide was hilarious and knowledgeable. You get a free beer (sometimes two) and they take you around and show you how this small time brewery made it big time. It gets loud, and it gets hot in some of the areas, but somebody gets to blow the whistle.. and there's beer. Did I mention beer? For $10 bucks you are getting the tour and a beer.. totally worth it. Or you can check out the other packages by clicking here where you can get more beer, or even souvenir beer glasses.
Again, sometimes you can pre-book, but during the busy season and weekends it's first come first serve. Seeing it was a thursday and midday, we just walked in and got a spot no problem. However, when we were there a month later and I was taking a friend, we walked in and had to book for one of the last ones of the day (they only had them late afternoon at that point). It is a quick little tour and it gets you all nice and warm and fuzzy for whatever else you feel like doing. For us, it made the trip back to the airport a little more bearable.
Obligatory pics of beer and beer making:
That was all we chose to do this time around. We checked out the old Union Station, mainly because we got lost underground. We would have had time for more, but like I said, super tired from the red eye and not wanting to miss our flight to London, or have to pay extra if we weren't back by the 7 hour UP Long Layover deadline. So we headed back early and went to "LEE Kitchen" which was through the international gates. Jamie was quite pumped about this, as was I, we watch a lot of food network and this guy is a legend. Susur Lee is on all the Top Chef, Masterchef, and Iron chef shows.. so to be eating some of his Dim Sum.. we were in heaven!
Anybody else had a good Toronto layover and make it out of the airport? Where did you go? What did you do? Tell us in the comments!