Penticton, British Columbia, Canada
What a magical city. As somebody who grew up in the Okanagan, I can honestly say Penticton was our weekend adventure, once we were old enough to drink and drive (but not at the same time! Safety first!). It really is a fun place, located between two lakes, Skaha and Okanagan, there is plenty of water sports and beaches, the famous Penticton Channel, if that is your thing… or wineries too (if that is your forte, check out our blog on Okanagan Wineries here!). We recently went back for a visit too.. so here are some tips and tricks for a stay in Penticton!
Why We Love Penticton…
Well.. just look at these views! It is really a stunning location..
But, we also like it because it can often be cheaper than neighbouring Kelowna and a bit quieter, as it is a bit lesser known. Not to mention, it is so easy to stay right across from the beach for a reasonable price. There is always deals on with Booking.com (see below) and while you will find less options than Kelowna, you will often find you are getting a lot more for your money.
Where We Stay…
We generally like to stay on the Okanagan side of things (north side) as a preference. The last place we stayed just last week is the Shoreline Condominiums. They were fairly basic, but they had a kitchen, fridge, and in our 1-bedroom suite, a kitchen table, fullsize fridge, and a living room area. They are in a prime location though, on the street that runs beside the lake and close to a couple good restaurants (more on that later). There was a pool too if swimming in the lake isn't your thing… I think we will be back! Check out the reviews here:
We have also stayed at the Ramada, which is a bit further from the beach, but a much nicer hotel. The little pub/restaurant is also a great place to stop for a bite. We stayed here when going to a concert, as it is quite close to the concert venue, and to the Canal for floating!
Many people opt for the Penticton Lakeside Resort because they have great views, amazing restaurants on site, and are in the middle of the action. However, they have received about the same review score as the Shoreline above, and lower than the Ramada.. so we feel they are a bit overrated.
There is plenty of options for B&B's, a couple hostels, camping, and some AHHHHHHMazing places on AirBnB.. we just stick with what we know TBH.
What To Do…
Do as the locals do… a stroll along the beach is always a past time. Not to mention swimming and boating. Or wine tours!! (Check out Deep Roots and Elephant Island.. two of our favourites or check the winery blog as noted above). One of my favourite activities there is joining a game of beach volleyball on Skaha Lake or having a bonfire on the beach (you'll notice designated areas with fire pits). We honestly find that Penticton is more about the rest and relaxation, rather than being go-go-go. We meander around town, check out wineries, and eat some amazing food!
In the summer.. the one must do is the legendary Penticton Channel… It is a lazy river type deal (depending on the spring melt and time you are there) where you can either rent tubes, or bring your own and float with tourists and locals alike. It goes from Okanagan Lake at the top (launch point is at Riverside drive and Burnaby avenue) down to Skaha lake at the bottom right by the airport. It should be noted that if you opt to rent a tube, you will have to get out at the midway point (unless they changed this year) and you can also get out there, where you can pay for a shuttle to get back to the top. When we go, we have usually had two vehicles, so we park one at the bottom and one at the top. There are also plenty of taxis at the bottom that will bring you back to the top for around $10+ CAD. Most people bring coolers and bevvys.. so we usually got all the way to the bottom and hung out at the beach down on that side.. The best part about this 7km float… it is absolutely FREE to do it, unless you need to rent the tube or take a shuttle.. It can get quite crowded and has a mix of rowdy stag/stagette/partiers and families with kids.. with everything in between..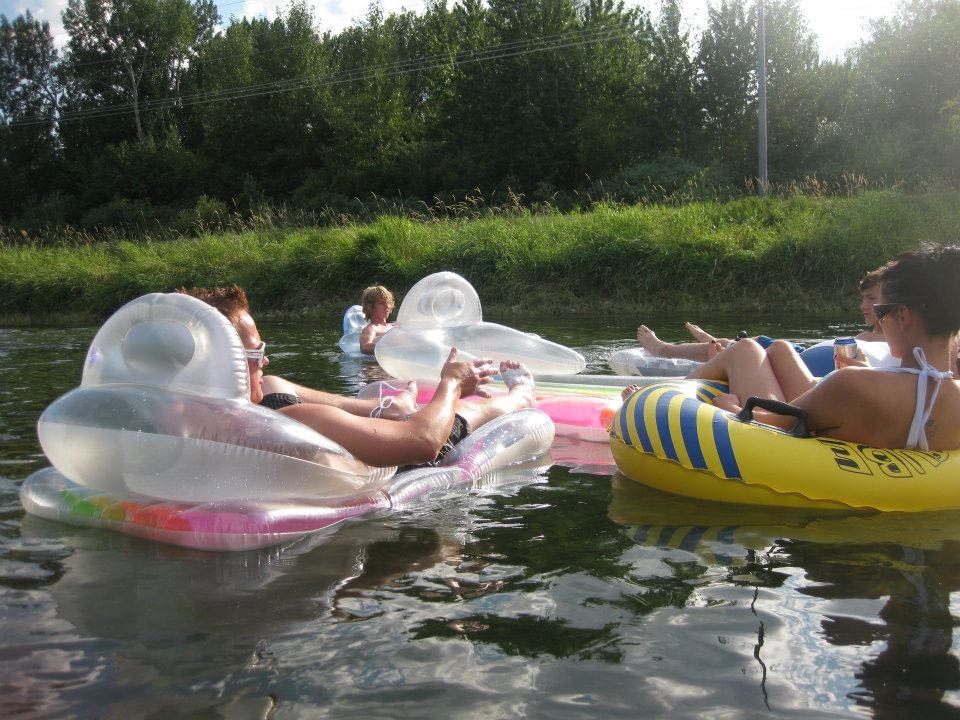 Where To Eat…
Penticton has a lot of great locations to eat.. On our last trip, whilst wine touring we came across a newly opened Legend Distilling which specializes in small batch spirits.. we did a sampling for $5. It is located in the Naramata Bench area… and they have this little patio with amazing views where you can get Charcuterie and some amazing food (try the Sticky Pork Belly Bites.. OMG. Drool..). Not to mention, daily drink specials using their great spirits and a stinking good caeser.. ya know… if that's your thing (it is definitely our thing). Jamie said their gin was ridiculously good too.
The must go to as well is Salty's Beach House, which is conveniently steps away from the Shoreline if you stay there. They keep expanding their patio and have some amazing food with some great Pirate vibes.. great place to hang out and people watch while the sun goes down. The patio is heated, and they have blankets if the evening gets a bit chilly too..
We recently tried the Hooded Merganser for the first time after eyeing it up for years. We always thought it was super fancy, but it is a mix, and not everybody was overly done up. This is more your upscale dine out location though. Located over the water on the Okanagan Lake side. Reservations recommended for sure if you don't want to wait. When we were there, a stagette was there, a bunch of people getting their obligatory photo on the lake, some people getting sauced, and a few fancy couples out on date nights for sure. It really brings an ecclectic mix and is not overly pretentious like we had originally thought it might be.
Lastly, if you are looking for a night out, there is a happening location right beside the Hooded Merganser.. home to many specialty nights and some pumping music, the Barking Parrot is your place to go. Great patio on the lake, great views and decent food and cocktails.. it does get quite crowded on weekend nights though, so best to show up early if you want a good spot!
There is also some nightclubs in the downtown core, but that is not really our thing anymore…
Well, that is about all I can say about Penticton for now folks.. I am sure there is probably a lot more that it has in store for those who want it.. but for us, it was always more for wine and floating adventures and a short getaway. Have you been? What was your favourite part? Leave a comment below and share with us, for the next time we are there!