Santorini, Greece
Beautiful Santorini, Greece is definitely a romantic place that everyone should experience at least once in their lifetime. A small quaint island that is about a 45 min flight from Athens, it boasts beautiful buildings built along the coastline with iconic blue domes. We booked a cute little place in a family run establishment through http://booking.com that was full of character and just what we needed. It was "shoulder" season so the only down fall was the swimming pool was not open, but that also meant not having to deal with the hoards of people everywhere.
1) ATV's
We had heard about renting ATVs and being able to drive these all over the island. This became our main priority after we settled into our room as we wanted to explore the island, and of course have some fun. We strolled up the road where there were plenty of places to rent an ATV. Pricing was almost the same between all places (ranging from 20 euros a day to 45 a day depending on size) so we just went to the first one that had the size available that we wanted. Keep in mind, when you rent for a day it means for a 24 hr time period, so you can keep them overnight which was really nice. There is a 150cc, 300cc and a 450cc…..I recommend the 300cc at the least.
So the first day we were there we took the ATVs out to Oia which was about a 30min drive…..Jessie had the 150cc and it was only able to go so fast. FYI if you have to use the bathroom, go before you leave otherwise they will charge you 1-2 euros to use a public washroom.
Get used to the roads being narrow, people driving literally right on your ass to the point it seems as though you can feel the heat from the engine. But all in all, if you drive smart and defensive it is very safe, and you will get used to having to just drive like they do. There doesn't seem to be much for rules compared to North America. You can take the ATV's nearly anywhere you like on the island, and is a fun great way to enjoy the island on your own terms.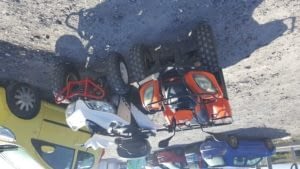 2) Beaches
After lunch, we went back to the ATVs and went down a hill that was past all the main parking lots and stops. It didn't seem like many people went down here, as most just turned back and went back to Thira. We ended up finding a beach, called the black beach and were maybe one of 3 other couples that were around. The beach was just alright, but the water was cold so we didn't venture in. Keep in mind, it was still early spring when we went.
With only an idea about where the beaches were we just drove, kind of guessing where we were going because we really just wanted to enjoy the landscape. Eventually we did end up at the red beach where there is about a 5 min walk from the parking lot to the beach along some rough terrain, so I do not recommend wearing sandals. While walking the beach there was a cool little hollowed out part in the rock face. Upon closer look it appeared at one point this was someone's house as there was a bed, kitchen and a table still inside. We spent a few hours just soaking up the sun and enjoying the cool temper of the water before we decided to move on.
Still uncertain of exactly where we were going we decided to keep following random roads and signs hoping we were going the right way. There were many places that you could stop to do hikes/trail walks but we did not have the right foot wear during the visit for any of these (next time).
We ended up in Perissa, a cute small town that was along the water front. There were some churches, shops and again many restaurants to choose from. Though we did find an awesome place with fantastic food and drinks that was open right on Kamari beach. During lunch we enjoyed a beer, and asked the owner if he would sell us few more for us to enjoy while right on the beach….."No Problem" he said. So we enjoyed the sand, sun water and our favorite beer in Greece on Kamari beach.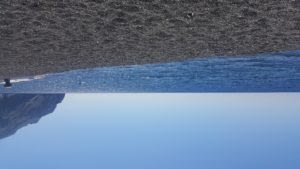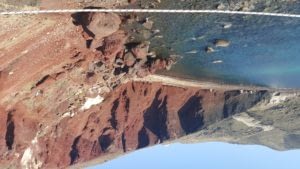 3) Restaurants
There are a variety of restaurants to choose from all over the island, more than you could eat at. They range anywhere from quick and cheap Gyros, to fine dining. There is a taste and style for everyone. The price does go up the closer to the view you get, as you are partly paying for the view as much as you are the food.
One place we tried was Obelix. A small street food like place that focused on take away, but had a few seats. It was super busy. The food was worth the wait, and the cook/owner provided us with some entertainment. He reminded us of the "Soup Nazi" character from Seinfeld, he knew everyone's order without writing down a thing and everyone was growing impatient, yet he had everything in tact and got everything right. And he had the attitude to keep us laughing at intrigued.
Another great restaurant I highly recommend for fantastic food and a very warm atmosphere is Salt & Pepper (https://www.facebook.com/SaltandPepperSantorini/). I do suggest making reservations as it seats maybe 25-30 people and was full when we got there. The first feeling you get from the woman who seats and serves you is that she is a bit rude and you are unwanted. Let this feeling pass, she turns out to be amazing and a total sweet heart. Her husband is the chef, and she runs the front of house, and the food is absolutely top-notch. You may not get the view, but you are paying for top quality food that is worth it. At the end of your meal, she takes a picture with each one of her guests. Eventually she posts them in the restaurant. Just an overall great experience.
For breakfast, you have to go to Corner. A small restaurant where the food is fresh and done right. You also get fresh squeezed orange juice with your breakfast. I believe the owner was making crepes that were on point and interesting to watch his expertise.
There is a ton of places to choose from, so many it is almost overwhelming as to where to go. Hopefully some of these places can help you in making an easier decision.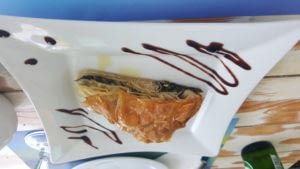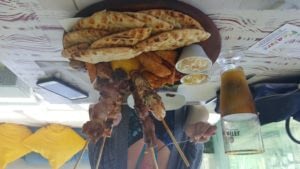 4) Sunsets

Oh the sunsets, world known for the sunset. It really is something to see, where you can literally watch the sun go down. There are so many places to see the sun rest from, just enjoy the breathtaking view.
Really, there is nothing else to say other than you don't know what you are missing, so here's another picture.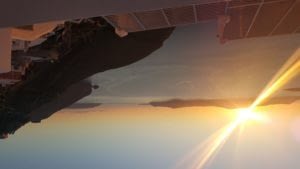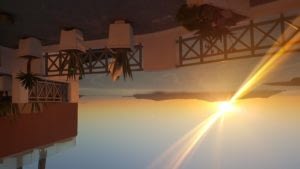 5) Stairs, Stairs, and more Stairs
Getting ready to leave that evening we still had not done the massive stair case. It goes from the top of Thira right down to the waterfront. I believe there are about 600 stairs, that are not equally spaced they seem never-ending. The walk down takes about 20-30 min, but feels like it is never going to end. Near the end, we had to pass through about 50 donkey's. We had to walk behind and between them all. We had that uneasy feeling of getting kicked by one. There are again restaurants, shops, places to book excursions, or book the donkey's to walk you back to the top. There is also a gondola that costs a few euros that will also take you back to the top.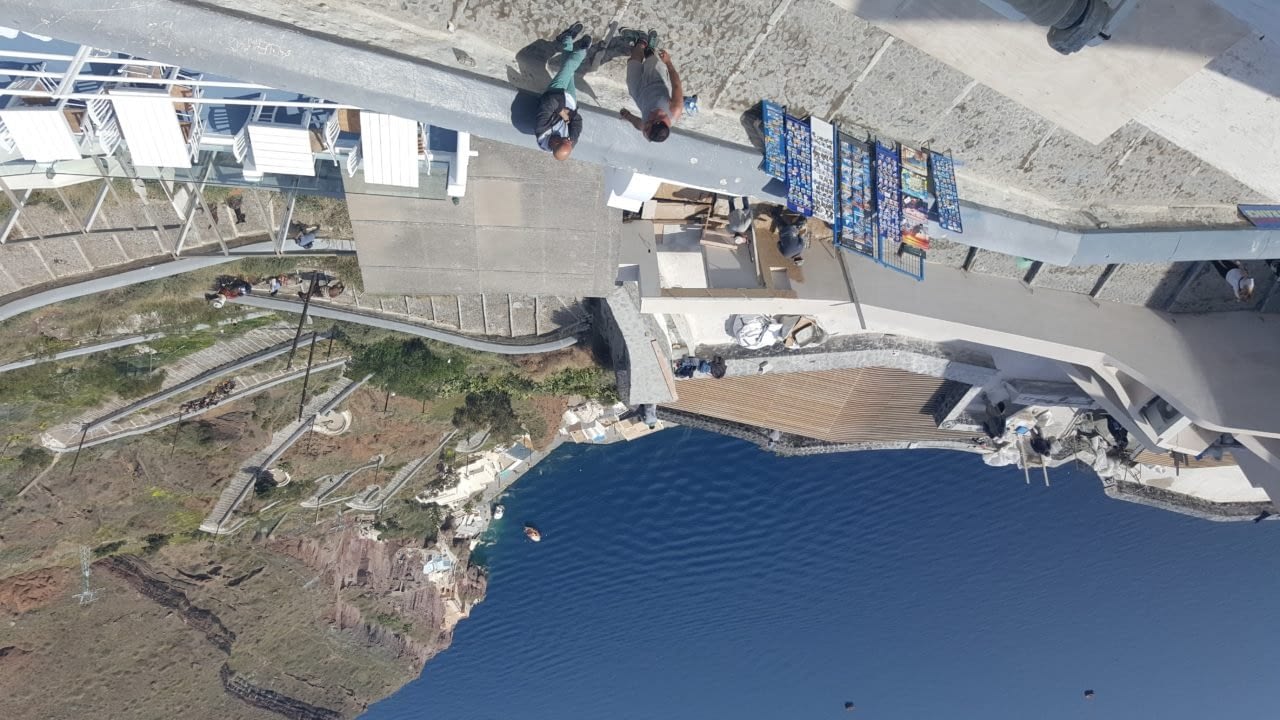 All in all, Santorini is an amazing place to visit. With endless restaurants to choose from, amazing architecture, beautiful sunsets and friendly people. We spent 3 days here which was plenty, but we would most definitely go back. I highly recommend this gorgeous island to anyone and everyone. We hope to hear about your own journey's or experiences of Santorini.