Day 3 – Chicago, Illinois – Cleveland, Ohio
Once again, we left Chicago early on our way to Cleveland. We were starting to get tired, the long days, up early driving all day, arriving in the city we planned on, then visiting all day until late in the evening. It is all worth it though. Next after Chicago was Cleveland. Getting out of Chicago was not too bad, and honestly the driving around such a busy city was tolerable and fairly simple as long as I had Google Maps. I also had my beautiful wife navigate the maps, and look out for terrible traffic if needed.
Chicago was short-lived, and it was definitely a blast, we really enjoyed it and we all (kids included) want to go back and spend more time there. The drive from Chicago to Cleveland was only about 6.5 hrs, yes you can do it faster, but we stopped for food and of course bathroom breaks. Quickly passing through Indiana, we ended up in Ohio, and there was still no shortage of toll roads. Again, being Canadian, toll roads are fairly uncommon unless around Toronto, or in some areas within BC. I went into detail regarding tolls in my Day 2 – Minneapolis to Chicago post, and had the info for how to purchase passes for the tolls. Just be sure to have cash while driving at all times, it keeps things simple and speeds it up.
Shortly after getting into Ohio, we could see the weather was going to begin to rain as the sky's were quite dark in front of us. Within about half an hour we experienced an intense downpour that required us to slow to about 50-60km/h (25-30 mph for you Americans). It got so bad with the rain and the wind, we could not wait to find a place safe to pull over, and sure enough there was a good ol American rest stop about 5 min away. It worked out, because we were hungry anyways, so we also grabbed lunch. However, almost immediately after pulling into the rest stop it quit raining. The rest stops in America are nice and frequent, and almost all of them have some sort of fast food (of course) and bathrooms. This is not the norm in Canada at all, we are lucky to get an outhouse, and a clean one to boot eh.
Anyways, I am getting sidetracked. I did not realize Cleveland was right on one of the great lakes, and I am generally pretty good with geography. Driving around Lake Eerie, was beautiful, and I felt like I made an accomplishment as this was the fifth and final of the great lakes for me to see!! So when I think of Cleveland, I think of the Drew Carey show and hear the theme song immediately. Anyone used to watch the Drew Carey show? (Millennials don't tell me I am old or dating myself lol…I am on the edge of being one myself). I didn't and still don't really know a whole lot about Cleveland, other than the sports teams.  Cleveland Indians, and Cleveland Browns (usually one of the worst teams in the league, sorry fans lol), oh and of course the well-known Rock and Roll hall of fame.
The Rock and Roll Hall of Fame was our (well maybe mostly mine) main purpose of coming through Cleveland. It is located right next to the Browns stadium. So the Rock n roll Hall of Fame, the Browns football stadium (only the 2nd NFL stadium I have seen in person), and next to a beautiful lake , I was as happy as a pig in shit. I wasn't sure how well the kids would enjoy the hall of fame, I know Jessie was interested and I assumed my son would like it (which he really did) but my daughter had her moments of interest as expected, although she still quite enjoyed it and had a blast. I was in awe just walking up to the Hall of Fame. I mean who doesn't like, or at least know of rock and roll.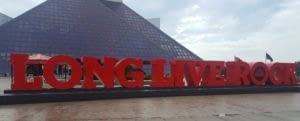 There was of course live bands playing when we arrived, and playing the entire time we were there. There were options to eat (overpriced like most attractions, and likely hardly edible). Going through the hall of fame, during the different eras, and history of rock I was mesmerized by many of the attractions. The kids had plenty of questions and were very interested. I was a little confused by some of the bands that were already inducted (such as Lady Gaga like WTF) how is she rock and roll?? Sure she has talent and I respect that, but to be inducted before a long lived band like Pearl Jam who was only inducted in 2017, it bothered me. The number of amazing unbelievable things we saw. Original lyrics written on napkins or notes by greats like Bob Marley, Jimi Hendrix, Elvis' bike and clothes, items from The Beatles, The Rolling Stones, Metallica and on and on it was so much to take in.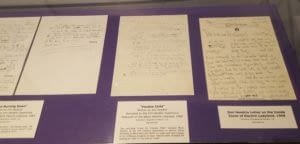 I can keep going on about the Hall of Fame, but there is more to Cleveland than just rock. After a long day of driving, and at the Hall of Fame, we were quite hungry. There was a restaurant called Nuevo, a modern Mexican restaurant & Tequila bar just a 5 min walk towards the lake. So we decided to try it, and man was it good. The kids loved it, the service was great, the view you couldn't beat, and the food was really good. Yeah, I know, I don't think of good or great Mexican food either when I think of Cleveland.
Cleveland has so much more to offer than just the Hall of Fame, the Browns and the Indians. There is nature to love and take in, other than the Great Lake. You can visit a number of gardens, such as The Cleveland Botanical Garden, The South Chagrin Reservation, or The Cleveland Cultural Garden. Sure there is more to do outside, these are just a few suggestions. You can also take in theater if you enjoy that, whether it be the orchestra, or live theater. Cleveland is a great city that we did not get enough time to explore, and we definitely want to go back.
Next up on the road trip is Niagara Falls, New York, while looking at our homeland as we head to Syracuse before heading back to Canada.