Day 1 – Winnipeg, Canada – Minneapolis, Minnesota
So recently we just did a road trip starting from our home in Winnipeg, driving through the midwest states and finishing in Quebec City in a 5 day span. This was a very quick tour through each city while we were ultimately driving my kids (just turned 13 &11) back home from a summer visit.
We left Winnipeg at 6am the first day, arriving in Minneapolis around 2pm by the time we go to the hotel….we were hungry and wanted to also visit the Mall of America. We used to live in Edmonton, so we kind of already took West Edmonton Mall for granted, which was the largest mall in the world until 2004, and is owned by the same people who own the Mall of America.
There was definitely some really cool and fun stuff we would have loved to do with the kids at the mall, but we had limited time as we had planned to take them to their first MLB game. You could definitely find a way to spend an entire day at the mall, possibly even two if you wanted to do all the attractions . Some of the main attractions are the Crayola Experience , Sea Life Minnesota Aquarium, Nickelodeon Universe, and Lego Land. The mall also has mini golf, an escape game, and a comedy club. If you are hungry, don't worry there are restaurants, or food courts within a short walk. And you can find nearly any type of cuisine from fast food, to pub food, or even sushi.
The transit system was quick, simple and allowed us to be stress free after a long day of driving with the kids. Another reason to go to the mall, or park nearby as the mall is not a park & ride (technically) but there is a major bus and Metro station at the mall.
The metro goes directly downtown, it does not take long, and is likely the best option if visiting, as you do not have to worry about parking, traffic, and trying to navigate a in a city you are unfamiliar with. If you plan on staying downtown, or want to stop at other areas in the city, I would suggest the All Day pass option. It is only $4.50 for an Adult and are valid until 2a.m. There are plenty of other transportation options like taxis (about $30), Uber and hotel shuttles if you are staying at a hotel nearby.
There is a variety of professional sports teams that are in Minneapolis that include an NFL, NHL, NBA, and an MLB team. We decided to go to a baseball game (Minnesota Twins vs Cleveland Indians) as this is what my son wanted to go see (actually I wanted to take him just as much or more than he wanted to go lol). Oh and the Metro goes right to Target Field, so this makes it convenient.
I hadn't been to a MLB game since I went to a Mariners game back in the mid 90's with my dad. They lost of course, oh and so did the Twins (6-1) but we had a blast, and more importantly the kids really enjoyed it. The tickets were very reasonable, as it only cost $108 USD for the 4 of us. Sure we weren't really close, and not really in the home run or foul ball range, but the view was amazing as you could easily see exactly what was going on. There were plenty of options for food at the park, typical ball park food, we only tried a jumbo pretzel ($6) and a beer as we had just eaten at the mall. Beer was priced reasonably for a venue like this and was the same as in Canada ($8 for draft, bottles also available).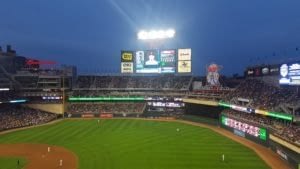 The next morning, we got up early, as we wanted to take a few pictures before we left, and had another 7 hr drive to Chicago. Unfortunately it was overcast, and we didn't get the best pictures, but it was still nice to see the city. We took some pictures at the Hennepin Island Hydroelectric Plant. The plant is built on the Mississippi river, and was built-in 1892. It had some interesting information on the history of the plant, as we
ll as how the plant runs. It happened to just be on our way out-of-town, and we did not want to get stuck in the downtown rush hour. It is also located near the University of Minnesota.
Minneapolis is a beautiful city that boasts amazing architecture, along with plenty of greenery and nature near by to explore as well. The city has plenty of beautiful parks, even waterfalls, museums, art institutes and galleries and some interesting sculptures as well. We found these great attractions, and the ones we want to return to see here.
Stay tuned for Day 2 – Chicago.