Mexico, Part 2
So in an earlier post I focused on Puerto Vallarta and some things to do around there. I said I would write about the Riviera Maya in another post, so here it is. In my other post, I spoke about using primarily the mexican peso in Puerto Vallarta and the reasons why. In the Riviera Maya, the USD is the most used currency, so no need to carry pesos.
We stayed at the Grand Bahia Principe Resort, which is about an hour and a half drive from Cancun airport. And about 20 minutes away from Tulum. The resort and beach were beautiful. And being the last hotel on the strip of resorts, when going for an excursion, we were usually last picked up and first dropped off. This was nice so we didn't have to spend any wasted time driving to each hotel for other guests.
We did not do any of the major ruins tours, as we did not want to have a 7 hour excursion and half of the time being stuck in a bus. However, we did goto Tulum, as it was only about 20 min from our resort, and not Chichen Itza which was about 2 hours one way.
Most or all the excursions you can book through your hotel. You can also book through random people or tour companies in Playa del Carmen, however you don't know who you can trust. At least at the hotel you know if there is an issue, the tour company will make it right. There are plenty of excursions to choose from, and we had a hard time deciding. These are some of the ones we did, and what I thought of them.
Playa Del Carmen, Riviera Maya
One of the trips we did was to Playa Del Carmen. This is about 45 minutes from Cancun and was also about 45 minutes from the resort. On the way, we stopped at a jewelery factory where they made the jewelery on site for the showroom. It was interesting, and if you want to buy anything they have items priced from $40-$50 USD upwards to a few thousand. This part of the trip was too long in my opinion as it is not my ideal way of wanting to explore the country.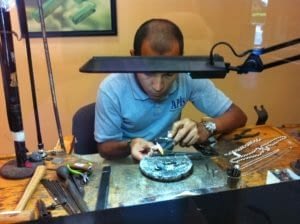 Once we were done at the jewelery shop, we continued on to Playa Del Carmen. We arrived in town just on the edge of 5th avenue. This is the main street with all the shops and tourists. We got a quick tour of a local coffee shop where they roast their own beans, and got a sample. The coffee was great traditional mexican coffee with hints of chocolate and cinnamon. No cream or sugar required. We then walked down a few blocks to one of the many restaurants and got a demo on how to make authentic mexican guacamole. This was interesting and fun learning from the chef, even though I already knew how to make it.
We proceeded back to 5th avenue and looked at the abundance of shops that were almost selling all the same stuff. Be ready to barter, and even pay more than you can get some of the items at other places, like your resort . As well, keep your eyes and ears widely open as there are a lot of people, tourists and locals. All the locals trying to sell stuff are constantly trying to get your attention. We felt very safe, but be sure to use your best judgement as there are scams happening all the time.
For example, a young man came up to us with a little monkey who jumped on to the shoulders of one of us. After some small talk with the young man who said he was working for a conservation (highly doubt this) I took a picture of the monkey on my friends' back. We were then asked to pay $5 for the picture. Unhappy about this, and after arguing for a bit, I was unsure of the reaction I was getting I ended up paying him.
Many of the locals know what resort you are staying at based solely on the wristband you are wearing. They are constantly yelling out your resort. And a classic scam, which I read in someone else's blog also happened to us. They will get your attention by yelling your resort name. Once you make eye contact, they say, "don't you remember me? I was your waiter, come with me and check out my grandma's shop, it's just down here" and of course its down a quiet street and towards a shady alley. We did not fall for this, but in the blog I read, they did go with the gentleman. They said it was pretty sketchy and were actually taken to a shop. Nothing happened, but they were very pushy and pressured the tourists to buy something so they could leave. So do not fall for this!!!!
The beach in Playa is beautiful, the nightlife is wild, and the shops and restaurants are all very americanized. Overall, I did not care too much for Playa Del Carmen as this isn't my scene for vacation for the most part.
Deep Sea Fishing
This was my first time going deep-sea fishing. It was cheap which was unexpected. I think for 4 hours, for the two of us it was only about $250USD. On the boat it was us and one other couple along with the captain and a skipper. If you want beer, you do need to bring your own. But for this do not buy beer lol. Every night, take beer out of your fridge and put it in your bag so they restock it and bring that with you. I mean you can't fish without beer.
We spent about 2 hours trolling for marlin and barracuda. We didn't have much luck, but did catch a small dense type of tuna. This obviously was a good catch, as the skipper immediately cleaned it and put it on ice, while the rest of the fish we caught just went into buckets of water.
After trolling we did do bottom fishing for a few hours and had fair success. You do have the option to take anything you catch either to one of the restaurants at the marina or back to your hotel and they will cook it for you. We did not take any as we figured this is the livelihood of the workers on the boat, so left it for them to sell to the local restaurants. We didn't catch anything big but the thrill was definitely worth it, and I would go again in a heartbeat.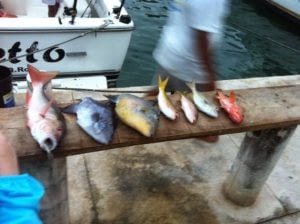 Xel Ha (Pronounced Shell Ha)
This was an amazing part of the trip. It is basically an outdoor aquarium in a bay and was very affordable as well. For the 2 of us it was about $180USD and included unlimited food and drinks (including alcoholic). Be sure to bring lots of sunscreen for the back, as your back is constantly exposed while snorkeling.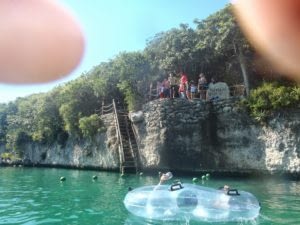 For an extra cost you can do a walk on the bottom of the ocean with a scuba helmet. This was not something we did, as there was a constant line-up as well, enough other things to do. There is plenty of sea life to see, from rays to all sorts of fish. There is walking trails and even a natural lazy river. The lazy river is a great way to relax, and has stop points where you can get off and do cliff jumping.
There is also a small floating water park that you can stop off at. It has structures, slides and a zip line. You can spend a good 2 hours keeping occupied floating down the river and stopping to enjoy the cliffs and floating structure.
The food was fairly good with good variety and something for everyone. There is a large area next to a bar that has lot's of trees and about 100 or so big comfortable hammocks. These were great for a mid afternoon siesta after a jam-packed morning and plenty of drinks enjoyed in the sun. This is definitely a fun experience for the family to enjoy.
Tulum/Akumal Tour
This was probably my favorite thing to do while we were here. Again it was maybe about $200USD for the two of us. It started out with a guide who was phenomenal and really made the tour interesting and fun. Our first stop was at the Tulum Ruins. This was just beautiful, and what a learning experience as well. The detail and structure of the buildings were hard to imagine for the time period that they were built. As well, we got a very good informative guide into the Mayan culture.
We spent about an hour touring with the guide and learning about Tulum, then we got another hour or so to spend time on the beach. Which was just stunning, perfect white sand, palm trees and crystal clear water. We enjoyed the area, and wandered the beach until it was time to go.
We then drove to a small community called Akumal. At the time we went it was busy, and not too much there, however they were planning on building new resorts in this area. So it is likely different now then when we went unfortunately. We stopped for lunch at an awesome little restaurant and enjoyed authentic Mexican cuisine and a few beers.
Sea Turtle
We then took our snorkel gear and swam out into the bay. There were amazing turtles everywhere, and they seemed to not be bothered with the hundreds of people in the water around them. However, we were told there used to be 7 or 8 different species of turtles that used to come to the area, and now there is maybe 2 or 3. This is due to overpopulation and tourists ruining their habitat. It was very interesting to watch the turtles, and so peaceful as it looks as though they are flying in the water when they swim.
All in all, the trip was great. The weather wasn't the best, but as I stated in my other post, that is typical for the Riviera Maya. There is a ton of things to do and to see in the area and there is definitely something for everyone. It is safe, but like I said, keep eyes and ears open and use your common sense.