Oh Mexico, how I absolutely love this country. However it is too much of the norm now and I prefer going more off the beaten path or going places that are not as common to the typical vacation enthusiast. Many of my friends go to the same resorts, or country over and over and over….and how this would be so boring after a while.
I have also been to the Riviera Maya and I will discuss that in a different article. Yes the beaches on the Mayan side are stunning, but Puerto Vallarta is absolutely beautiful. The weather is consistent….when I visited it was always in the low to mid 30's (celsius). As well, when you wake up and the sky is clear, or slightly cloudy….that is what the weather is going to be like for the day. So no need for a weather app on the phone. Unlike the Mayan side, the majority of the weather is dependant about what is happening in the Gulf of Mexico and Florida areas. However, this is about Puerto Vallarta excursions and some quick tips.
Riviera Nayarit, Mexico
I stayed in Riviera Nayarit which is about 20 min from the airport, but in a different province. You can walk about 20 min down the beach and visit a cute authentic fishing village called Buceria, which has local markets. During the walk I would highly suggest stopping at one of the many massage huts. A couples massage for an hour that was as good as any in North America was only $50USD!! (Of course we always tipped very well as this is still extremely cheap).
Currency
I would also definitely recommend bringing Peso's before coming to this side of Mexico so you can get the best exchange rate. Of course they will take the USD, however you can barter a lot more aggressive if you have peso. If you want to exchange the USD for peso's you are only allowed a maximum amount each day. At our hotel it was only $250 USD exchange each day per room, and they need your passport as well as enter in every single serial number from each bill. This is all government regulated to help curb some of the counterfeit bills that float around along with the cartel activity in the areas, (No need to be alarmed for the cartels, just mind your business and don't go looking for drugs lol).
Transportation in Mexico
With many of the excursions, transportation is generally included. However there is an abundance of taxis available and the great thing is they aren't on a meter system. At your resort, or any major taxi pick up area there are stands that states the cost to go from where you are to where you want to go. It is fairly cheap, and I think the most it cost us was $12-$15 USD. It is also an efficient and very quick way to go where you want without waiting for buses or shuttles. Also, there is a transit system along the highway and if I remember correctly it was maybe a couple of pesos to get on or like 50 cents. We never tried it as we couldn't figure it out with no marked stops and people just standing and waiting on the side of the highway. But this doesn't meant it wouldn't be a fun adventure, and we spoke to a few people on the resort who did this and loved the experience.
Excursions
So while here, I happened to do 4 excursions and all of them were a fun and unique experience. Some better than others, but it all depends on what you are looking to do. There is plenty to choose from, so here is some information about the 4 I did.
Luxury Sailing
So this was the first one we went on, and this is definitely a full day tour. It was a beautiful 33C and sunny!! What a perfect day, but I highly recommend bring lots and lots of sunscreen. We took a taxi from the hotel to Vallarta Adventures, which was maybe a 15 min ride. From http://www.vallarta-adventures.com/ they put us in a standard boat and we boated over to a marina. Once we got on the sail boat, we set way. The guides were pretty good, they were entertaining and friendly. There isn't much shade with the number of people who were on the excursion, and with the white sailboat reflecting the hot bright sun….pack on the sunscreen. We boated out into the bay a ways for about an hour or so then we set anchor and got to do some snorkeling. While we were snorkeling the guides prepared a light lunch/snack and had drinks ready to go as well. Oh, I forgot to mention, it is an open bar. After lunch, we boated out a bit more and they set the sails, turning the engines off. This was definitely relaxing, as we enjoyed plenty of drinks on the boat deck and took in the beautiful view. We sailed for about 2 hours along the coast and it was just truly relaxing. If this is what you need, I definitely recommend it.
Swimming with the Dolphins
How could you goto Mexico, and not swim with the dolphins at least once in your lifetime. There are plenty of options of how to enjoy your interaction with them. There is kid friendly, there is an adult friendly and then there is an extreme more private session with limited people (and of course more expensive. About $250USD for 2). If you aren't able to hold your breath long, or a decent swimmer I do not recommend the extreme. I had to go with the extreme, as we got personalised interactions along with underwater dives with the dolphins and there were only 6 of us and 1 guide in the tank. The experience was unreal, and for 1 hour we got to do 5 different dives under and above the water. To me this is worth it as it is a once in a lifetime thing you are going to do. We did get pictures, and this is where they really get you. It was $100 for a USB and 2 prints.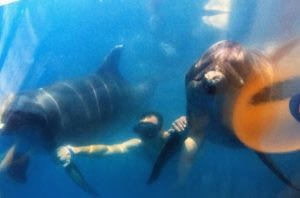 Sea Safari
This was by far my favorite excursion, and I totally recommend this to anyone and everyone!!! Again, it departed from http://www.vallarta-adventures.com/ and is a full day experience. The guide was fantastic, very personable and interacted well with everyone. He pointed out some of the greenery and hill lines, informing us that this is where the predator movies were filmed. We stopped to snorkel, and he showed us star fish and puffer fish allowing us to touch or hold the sea life. I did not take part, as I don't believe in disturbing the natural state of the sea life. After the first snorkel stop we got back into the boat, and started to follow some humpback whales that went by a little earlier.
We caught up, and from a distance waited for them to surface. Legally the boats cannot go too close, as they are protected by the government. We got to see the whales surface and I have to say, what a breathtaking sight. As much as you see them on TV, it is nothing like seeing it in person. Continuing on to a small community, that is only accessible by boat. Getting introduced to some of the locals and after buying some ice cream like desserts to cool off we made our way to a horse pasture. Everyone was given the rules, and assigned either a horse or a donkey (they ran out of horses as there we a few groups there at once). We rode horseback up the mountain for about 30 min through dense brush which was just beautiful. Once at the top, we got off and walked a bit towards a waterfall that was just stunning. Many locals were there climbing to the top and jumping off. There was also a small restaurant there where you can enjoy some light snacks, and beer of course. After a few beers, and nachos, we went for a very refreshing swim in the crystal clear water.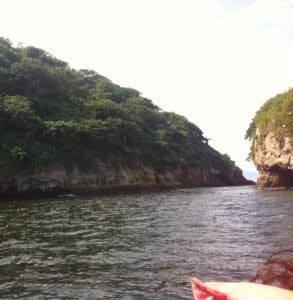 Once back at the boat, we continued on for another quick snorkel stop before getting to the next village (again only accessible by boat). On the beach, there was a group of kids playing volleyball. We went for a tour through the village before getting to the beach where they had hired a chef who prepares an amazing bbq dinner. Open bar begins as well, and the food was honestly better than what we had on our resort! After eating, we played volleyball with the kids, who all spoke very good english. It was a blast, and it was fantastic to learn that a portion of the cost of this excursion goes to the schools of the 2 villages we visited. What a great way to end the day to an adventurous excursion.
Pirates of the Bay
There are day tours, and night tours. I believe there are 2 days, Thursday's for sure are Canadian night. Meaning most of the entertainment or songs are directed towards Canadians. If you are looking for a night out, and a party book the night tour!! Once you get to the marina in Puerto Vallarta, you are assigned a pirate and basically wait until they are ready to set sail. Enjoy a few beers while waiting, and we even played blackjack with a few others and a pirate. The losers of the hand had to take a swig of rum that the pirate provided. Great fun to pass the time while waiting for the boat to be ready. Once on the boat, your pirate (who is basically your server) will get you drinks…..oh yeah it's definitely an open bar. Just sit back and enjoy the show. The entertainment is fantastic, and at night, the shoreline of Puerto Vallarta is gorgeous. Half way through, you goto the lower deck and enjoy a high-end very well done dinner. It is a little loud, but the company is good just don't be shy. After dinner, the show continues, the drinks keep flowing and they start pumping the music getting everyone dancing and having a good time.
If there are 2 out of the 4 I would do again, it would definitely be the Pirates and the Sea Safari. But for now, I think there are many more exciting places to see before going back to Mexico. Keep an eye out for my next post on my experience from the Riviera Maya.