Luxury Cruise Halong Bay, Vietnam
We were in Vietnam for two weeks in June, and absolutely fell in love with the country. It boasts some of the most friendly people in the region along with amazing food that has been influenced by occupants of the country in prior centuries. 
The Vietnamese people have embraced the food culture that was introduced by the Chinese and the French. Some of the best breads we have had in Asia have been in Vietnam.
Anyways, enough about the food, let's talk about Ha Long Bay and how to experience it.
There are so many different ways to visit and view Halong Bay. The most common, and likely the best is by doing a "luxury" cruise. With day trips leaving from a multitude of locations, the most popular and likely is going to be from Hanoi.
If you plan on doing a day trip just be prepared for an extremely long day. The drive from Hanoi to a ferry is approximately 3 hours. Then the local ferry is about 30 minutes, followed by another 30 minute drive to the location most of the boats are docked.
There may be quicker options, however this is the route our cruise took, and it seemed it was fairly common.
Use caution and do your research when booking your cruise. Whether you are doing a day trip, or a multi-day trip there are so many different options, and some are advertised to start at $20USD. Like anything, price and quality usually go hand in hand. 
We have heard from others, friends and through research that these lower priced "luxury" cruises are not luxury at all.
We opted to do a two day one night cruise. It was a bit more expensive but it was definitely worth it. The company we used was UniCharm, which is a newer company in the industry but they sure look after you.
The capacity of the ship is 40 occupants with true luxury cabins, and they will sail whether there are two people aboard or at full capacity.
There are a number of packages available, with prices ranging from $150 USD to $190USD per person. This pricing is for the 2D 1N package, and it includes your accommodation and all of your meals.
Yes for Vietnam this is a bit pricey, however like I mentioned, some of the lower priced cruises (here say from others) aren't true luxury.
Currently they are offering free pick up in Hanoi old quarters which I believe is a promotion. We had to pay $25USD per person for two way transportation, which in reality is reasonable considering it is a 3 hour drive, and this also included the ferry tickets.
The bus was a nice air-conditioned coach with comfortable seats, and our guide Hieu was with us from start to finish.
The food on the ship was fantastic with a nice welcome drink, and an 8 course lunch. There was a bit of seafood for lunch (which I don't eat) but they will cater to any dietary restrictions.
Alcoholic beverages and tips are not included, but the drinks are priced reasonably and they have two bars.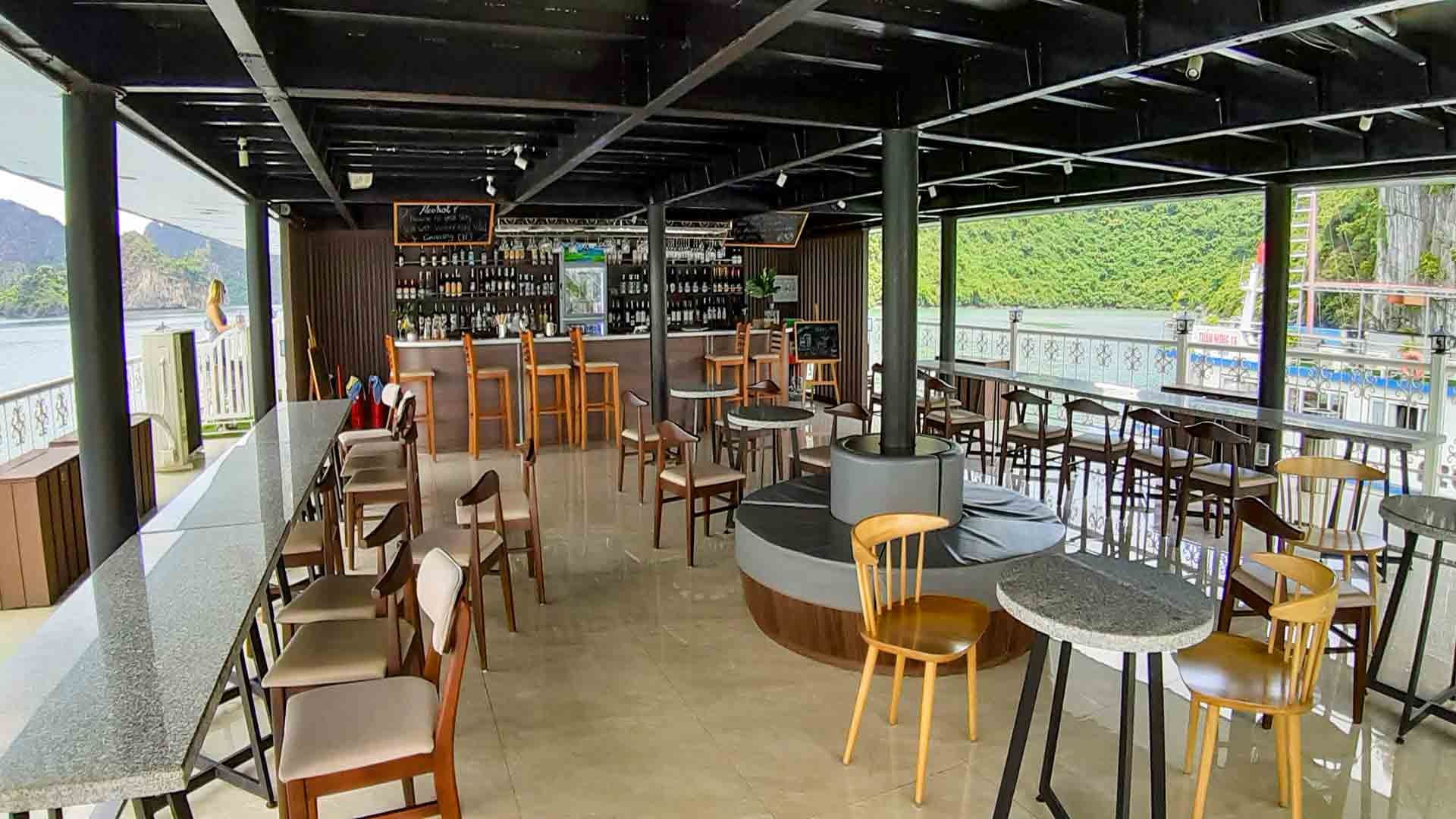 There is a 2D 1N offer, and a 3D 2N offer. We cannot speak to some of the activities on the last day of the 3 day offer, but we will share the itinerary to help you make a decision.
Like I said, we were welcomed with a drink and a nice lunch once we arrived on board. Every single team member on board was waiting for us and greeted us which was very nice.
We were given about 30 minutes or so to get into our rooms, get settled and then meet in the dining lounge for lunch as we started to sail through the bay.
The total cruise time out to where we anchored was approximately 2-3 hours. This gives you time after lunch to relax in your air-conditioned room, or sit on the ship deck to take in the serene view.
You will pass plenty of fish, oyster, and clam farms that are run by locals who literally live on the water. The only disappointment is the plastic garbage you see in the water, but this shouldn't really be a surprise to us anymore as plastic has taken over.
Once the boat sets anchor in a beautiful, not too  busy area of the bay it is time to go on a kayak adventure through the bay.
You will board a small boat (that was dragged out by the ship) and dock at one of the locals homes where you borrow kayaks. The cruise ship brings supplies out to some of the people as well.
We were shocked to see and be greeted by some very friendly dogs on the locals floating house. Once you are settled in the kayak, you go on a 1.5-2.5 hr excursion through the area of the bay.
You will see up close some of the fish farms, the local floating market with very limited supplies and eventually stop off at a bay to go for a swim.
Once back on the boat, again being greeted by all of the staff, you will have some free time to relax, have a drink at one of the bars and enjoy the view while they start preparing a buffet and BBQ dinner. The sunset is truly mesmerizing and you better not miss out on it.
Just prior to dinner, there is a little workshop where you learn to make Vietnamese Spring Rolls, that you get to enjoy afterwards. This was a lot of fun with our group, and the spring rolls were really delicious.
The BBQ dinner was fantastic, with a huge selection of meats, seafood and a buffet of salads and sides.
After dinner, there is an opportunity to fish for squid. We aren't sure if anyone ever actually catches anything, but it was fun hanging out with some of the other guests and joking around.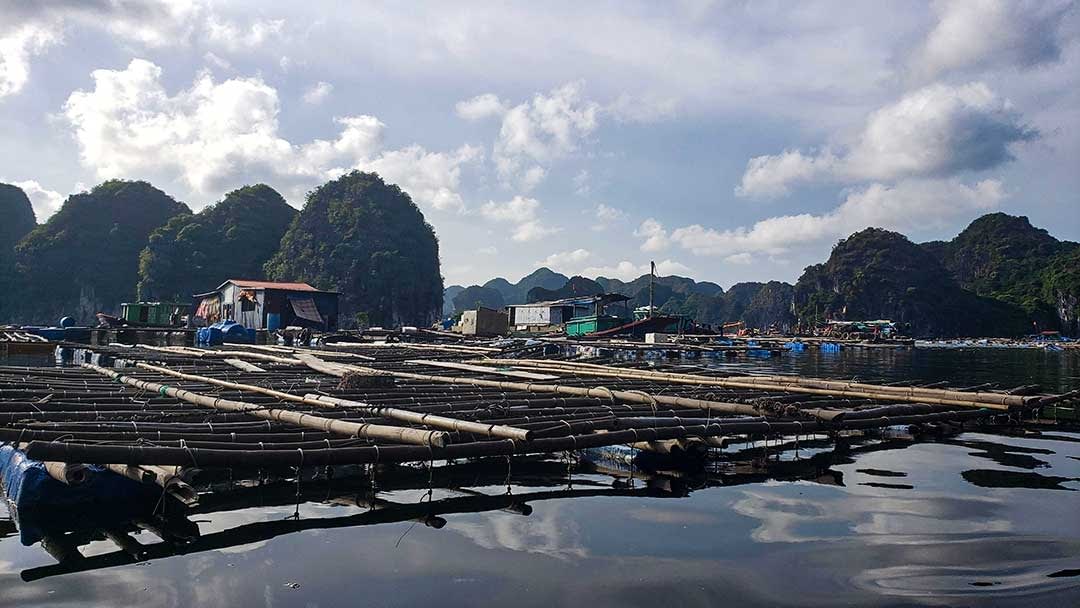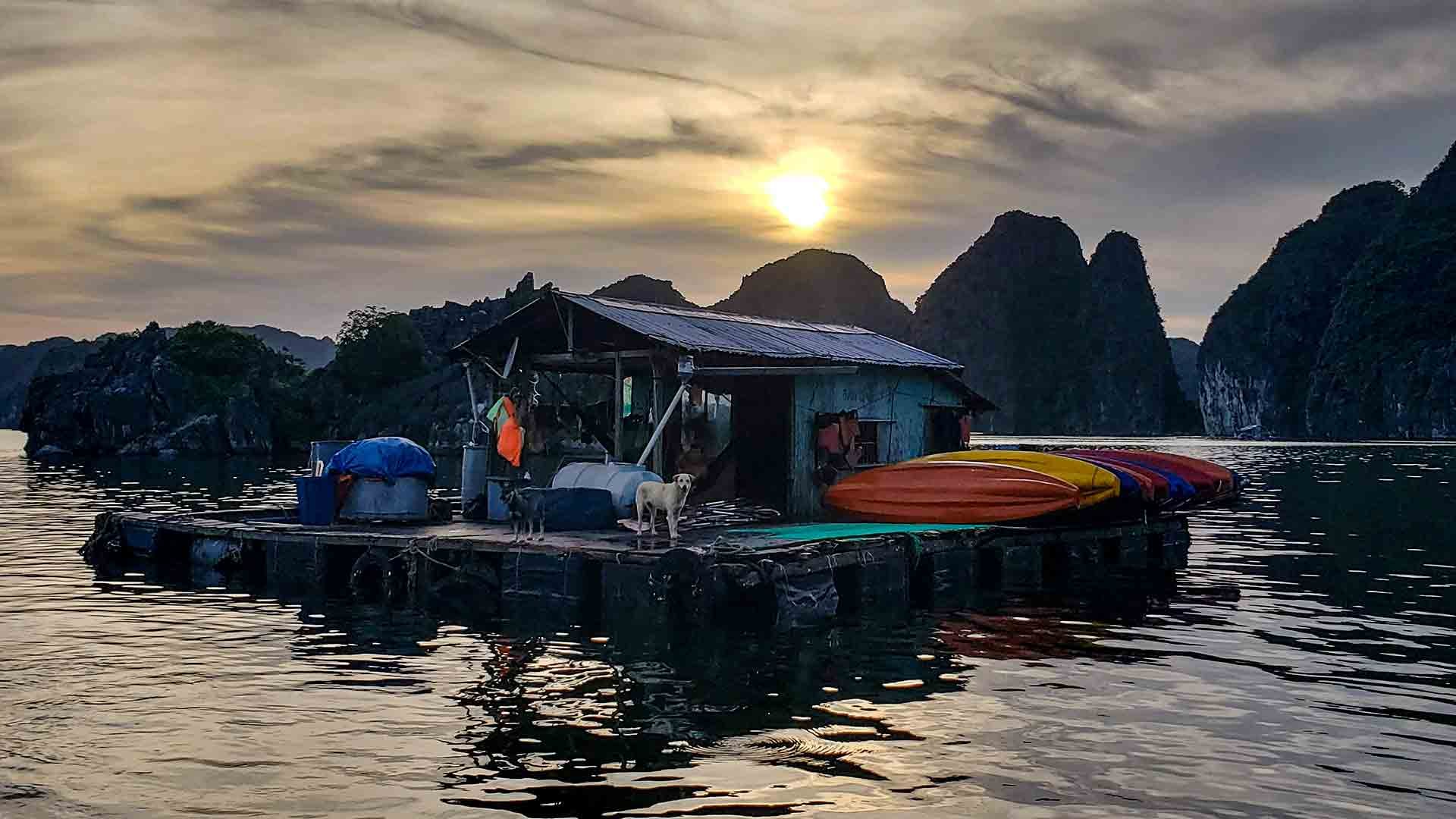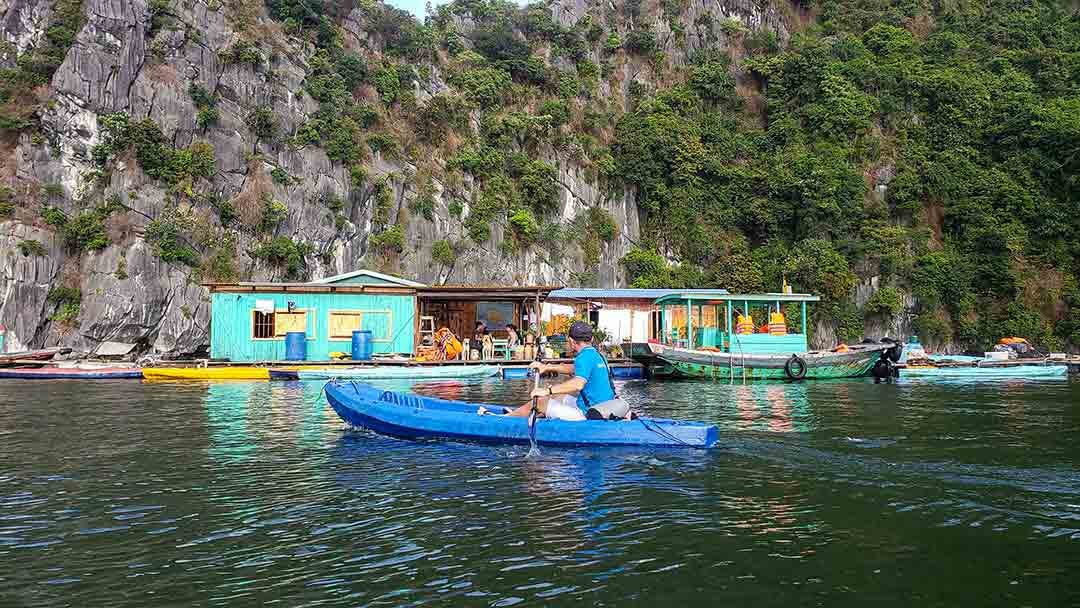 You will be up early, so don't drink too much the night before. Around 6:30-7:00am there is a light breakfast of fresh fruits and pastries. During this time, the ship starts cruising over to Cat Ba Island where you will go for a bike ride.
The bike ride through Cat Ba is beautiful, and you have to go this early in the morning before it gets too hot. The cycle takes about 1.5 hours and you stop in a village for a drink of water before heading back through the farm-land.
When you return back to the boat you have time to shower, and clean up. The ship will start to cruise again as you head back to the port.
Second breakfast, or brunch, is a buffet style meal again, with some traditional Vietnamese food, as well as some Western Food. I love Pho and definitely had a few bowls of this for breakfast.
Once finished breakfast, just relax and enjoy the view. You will dock back at the port and take the nice air-conditioned coach back to Hanoi.
If you are doing the 3D 2N package, just stay on board and wait for the new guests to arrive. Don't worry you won't be doing the same thing, as a second guide switches out and will take you on a trekking and cave tour.
The order of these tours may differ as I stated, as we had some people who joined us in the bay after the kayaking, and departed at the same time as us.
For us, this is definitely a must do experience while visiting in Vietnam. The sunsets and food alone are worth the trip. 
You get to view and see locals living on the floating villages (oh and one of them is an AirBnB). Being able to witness the way the people live daily is eye opening as pictures don't give you the full story and hard-ships the people have to endure.
As I have stated, use caution when booking and do your research. We cannot suggest or have opinions on the day cruises, or other luxury cruise options, but we can definitely recommend UniCharm.
For another true luxury cruise that focuses more on Bai Tu Long Bay be sure to check out The Hidden Coconut's experience with Dragon Legend Cruise. Bai Tu Long Bay is still part of Halong Bay and the views will be quite similar, just a different experience. 
Have you been to Halong Bay? We would love to hear your experience and how you decided to visit this beautiful area.
*This is not a paid, or endorsed post. It is a personal experience and preference based on the quality service we were given by this company*
Stay Current & Sign-up for our Newsletter