Get to the Gili Islands from Lombok Airport
So, I did a lot of research, and we ended up winging it and going our own way… and it paid off! There are so many blog posts about how to get to the Gili Islands from Bali, but because we had already visited Bali on a previous trip, this time we decided to fly into Lombok (Praya) direct and make our way out to the islands on our own.
There were also a lot of posts about these private boats you could take, and then when I went to the websites of the boat companies, I could never find the route we were looking for. It was always Bali to the Gili's.
First recommendation: Download the "Blue Bird" taxi app before you head to Indonesia. We used it in Bali as well, whenever Grab didn't work (cue The Taxi Mafia, it's a real thing here.. more on that later). We recommend booking before you walk outside, because there are tons of taxi drivers who are in your face about you using their services.
We actually had booked a night on either end at a hotel up the road that had a free shuttle to and from the airport. We flew in late at night and early in the morning on the way out. Even with a shuttle driver with a card and our name on it, we still had drivers approaching us asking if we needed a ride.
They can get quite aggressive, including if you already have a booking made with an app (sometimes they try to look over your shoulder to see your phone, be careful!).
Our hotel offered a private transfer and wow was it pricey!! We were looking at around 965,000 rupiah one way to and from the airport. OUCH. Nooooo thank you. That was more than our hotel was going to cost, and we had big plans for diving.. that was 2 dives, we knew we could do better.
So…here is what we did and who our transfers were including the boat across and back to the airport. It came to a grand total of… 630,000 rupiah round trip for two of us!!! Quite different than the nearly 2 million rupiah it would have cost otherwise.
(NOTE: ALL PRICES WILL BE REFERRED TO IN THE INDONESIAN RUPIAH. AT TIME OF THE POST $1 USD EQUALS 14,000 RUPIAH)
How we Got to The Gili Islands
We booked a Blue Bird taxi (with the app) which cost below 300k, and he took us a bit longer of a way, by the coast, for some picturesque tows and cliffs. The alternative is through the mountains/hills and the monkey forest.
It is more direct, but we were told by the local dive staff that lived on the Gili Islands for years, that if you get stuck behind a larger truck or slow moving vehicle, you are trapped as there is no where to safely pass.
They said they still prefer the coastal road, as it can end up being cheaper that moving at a snails pace behind the trucks.
You want them to take you to the Bangsal Harbour. Our taxi took us all the way down to the water. In my research, some people were dropped off at the Bunga Bunga Cafe – where they made them pay for another shuttle and get food/drink while they waited.
If they try to drop you there I would say no and ask to be taken down to the water. If worse comes to worse, it is not that far of a walk unless you are carrying a lot of suitcases.
However, as the Bluebird taxis are reliable and safe, you should not have these issues, it was more the other taxi mafia scenarios where they try to take advantage of you.
It is worth noting that some people have been stopped at the "gate" and the drivers had to pay extra to drive them all the way down to the water, but when we did in June 2019, there was no people monitoring the gate. 
When you get down to the harbour, you will want to head to the western side. There is a stand you can buy your tickets from. We used the public boats, because they are cheaper and head over whenever they were full. We ended up waiting about 10 minutes max before the boat was full and we could depart.
These are not luxury boats by any means. They are rickety and loud, but they get you where you need to go for 15k rupiah. You will get a paper ticket, and usually they announce "Public" and the color of the ticket when they are ready to go.
You will have to walk through water on either side and clamber up the boat with a mixture of locals and travellers alike.
The boat across is about 45 minutes max. If you are going to Gili T that is. I am sure it is the same process for the other Gili Islands, perhaps more complex, but Gili T is the biggest, and busiest, and that is where we went.
On Gili T your options are limited to get to your hotel as it is a horse or bike island (with a handful of electric scooters). We were a short walk so we just hoofed it ourselves. Some people take the horses.
Our one complaint about that, is some do not look like they have the best living and working conditions. Some others you can tell they are well taken care of. Some hotels offer a pick up on this side, depending on where you are staying on the island.
We were staying at Trawangan Dive Resort, which is smack dab in the middle of it all. 
Getting from Gili T to Lombok Airport
It is pretty much the same in reverse. Head to the same place you got dropped off at and buy your ticket on the public boat. When you get to the harbour, you can book using the Bluebird app if you have data, or even start walking to their taxi stand if worse comes to worse.
It cost about the same to get back to the airport and once we got away from the taxi mafia, it was very relaxing. There is a massive Blue Bird Taxi stand at the Bangsal Harbour.
We didn't try with Grab because it doesn't seem to be as popular in Indonesia as you find in other SE Asian countries. We rounded for our driver, because he was good and courteous. We also really like rewarding the hard working drivers who choose to go a more solid and less aggressive route. 
The taxi mafia is real and alive in Indonesia. We've had a few instances where drivers will follow us, trying to see our phones, making comments about grab and being rude under their breath. Quite a few times on our trip we had random people saying they have a car and can give us a ride for cheap.
What we have read about in multiple different instances is the price being different from what was originally agreed upon, and aggressive tactics ensuing afterwards.
While we are sure not every driver is like this, we have chosen to not take the chances and always opt for a driver who has a metered taxi and turns it on (make sure they do this). Some have gotten right up in our personal space and won't leave us alone. 
In Bali, we watched two drivers follow and harass a couple down the road because they declined their services. They continued to harass them until they finally agreed to go for a ride. While the country is great, these situations become stressful and create anxiety.
It is one of those things you need to be prepared for if you plan to travel around this region. We highly recommend being as proactive as possible to ensure you do not get yourself in a needless situation.
They have gotten violent in some cases with either customers or other drivers. We have heard this first hand from friends who have unfortunately experienced this. We still think the Gili Islands, Bali and all of Indonesia are a must travel and the Taxi Mafia shouldn't deter anyone from visiting.
Safe travels!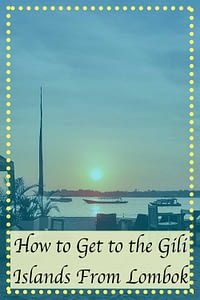 Sign-up for our Newsletter