Highlands2Hammocks - Guest Interview
We had met Campbell & Gemma a while back via social media. We have followed their recent journey of cycling through Italy & Greece before the cycling part of their travel came to an end due to the bikes unfortunately getting stolen in northern Italy.
However, this did not mark the end of their adventure. They persevered and carried on with their plan to explore Europe.
They have a stunning Instagram page that you should definitely follow. They are an inspiration providing fantastic tips on how you can see the world with excitement all while on a budget. 
We were so inspired we wanted to learn more about them and asked them to do this (our first interview). They obliged and we are honoured for them to be our first guests of hopefully many to come.
Enjoy learning about them, and FOLLOW their amazing blog and social media accounts that are listed at the end of the interview.
Where did you get your inspiration and passion to travel long-term?
We both have to say our parents. They have told us so many wonderful and thrilling stories over the years that gave us inspiration in search of these adventures ourselves!
Four years ago Gemma completed some nursing placements in Australia, we travelled for around 3 months after that and caught the big! We have been planning and saving money ever since!
How long have you been travelling? And how long do you plan to keep travelling?
Two years ago Campbell moved to London and Gemma moved to Guernsey. Since then we haven't called one place home for more than 12 months. In May this year we quit our jobs and began travelling full-time.
That is a difficult one as we would like to do it forever.. however we also want to buy a house and have a family. Guess we'll have to play it by ear.
Four years ago Gemma completed some nursing placements in Australia, we travelled for around 3 months after that and caught the big! We have been planning and saving money ever since!
What countries have you travelled to? And what are 5 countries or locations that are on the top of your list?
Our travels have taken us across 5 continents with our latest adventure taking us through the majority of Europe. The top of our list is Indonesia, the French Polynesia, Costa Rica, Sri Lanka and Iceland. As well as all the rest obviously!
You guys have cycled through parts of Europe, what parts have you cycled through? What were the biggest challenges and how did you overcome them?
We bought our bikes in Germany and took them to Italy by train. We then cycled the entire eastern coast. We then island hopped with them around Greece (a very interesting experience) before heading black to Italy where we travelled by train up the west coast.
We had plans to cycle across France afterwards, however it was in north Italy that our Italian cycling adventure came to a poetic ending as our bikes were stolen.
The most challenging part was finding a route that we wouldn't be mowed down by lorries but also didn't have us climbing up steep rocky hills. Both became very regular occurrences.
One day we had 20 minutes left to our destination however we ended up faced with a steep rocky hill trying to drag our 30kg bikes and luggage up! We arrived 3 hours later with very sore legs.
You have had many experiences the last few months, What are the most memorable and humbling experiences?
Our most memorable experience over the trip has got to be our Italian Cycling Adventure. For the first time in our lives, we packed our lives onto the back of a bike and over the course of 8 days, cycled a gruelling 800km down Italy's eastern coast.
This experience showed us just what we are truly capable of when we put our minds to it, after facing daily struggles and challenges that we never believed we could overcome.
Our most humbling experience during our Europe trip has to be witnessing the sunrise over Lake Bled. After finally managing to drag ourselves from our cosy tent we arrived on the banks of Lake Bled to witness what would be the most beautiful sunrise we have ever seen.
There are times in life when your mind can't even acknowledge what is in front of you, this was definitely one of those times.
Do you develop and stick to a budget while travelling? And what tips do you have to stay disciplined within the budget?
Very much so. We are pretty obsessed with budgets when it comes to planning and adventuring. Campbell developed a spreadsheet that we use to keep track of how much money we have, as well as what we are projected to have at the end of the year (if we stick to the budget).
We are lucky because we can both live on very little, we don't mind cooking instead of eating out and we both ;love cheap accommodation (camping).
When it comes to staying disciplined, the best advice we have is that it is okay to treat yourself every now and again, just don't overdo it! If you over spend today, make sure you under spend tomorrow.
Also make sure you always plan a contingency fund for all the unexpected stuff that happens on adventures!
You are off to Australia soon for a working holiday, Where will be you be "settling down" and for how long?
That's right, we are finally going back! Four years ago we explored pretty much all of the east coast, and have been planning this trip to return ever since!
Our plan is to arrive in Melbourne and get set up, however after that its wherever we want to rest our heads for he night. We will be using our Working Holiday Visas to save up enough money to explore for a while, and then doing just that!
Are there any useful sites, blogs, or social media accounts that you use to help plan for any of your travels?
We certainly do use a wide range of tools when it comes to planning and prepping for our trips. Skyscanner helps us browse the cheapest flights, Airbnb helps us find the cheapest accommodations and Pinterest helps us find the best things to do in the destination.
What are 3 items/possessions (electronic, sentimental etc) that you would never travel without?
We are very much into our gadgets, with our rucksacks weight consisting of about 30% electronics. When it comes to travel hacks for this kind of thing, our absolute number one has got to be a multi-point power socket.
This allows you to turn that one plug on the train into a power bank for ALL of your gadgets. It has saved our necks countless times on the trains around Europe, especially since we were camping and electricity costs extra (pfft nuts to that!).
Another lifesaver we carry are our travel neck pillows from Decathlon. These blow up cushions, take up absolutely no room at all and can help make any overnight bus ride ALMOST bearable.
Our final lifesaver is rope and duct tape. You never know when you are going to be in the situation (ESPECIALLY when camping) when you will need to either tape something together or tie something up. We never head off on a trip now without both of these items.
If you have one piece of advice to give to other long-term traveling couples, what would it be?
Always remember that it is okay to have a day off. Long-term travel can be an exhausting lifestyle if you hold yourself to the unrealistic standard of spending every day on an adventure.
You need to spend some time not only allowing yourself to recover, but also letting your relationship recover. Have a day off, watch a movie and just chill out with your best friend.
Huge thanks to HeTravelsSheTravels for hosting this interview with us! If you are interested in the rest of our adventures, you can catch all of our blogs over on our website right here!
LINK: https://highlands2hammocks.co.uk
Also catch up with our current adventures and come and say "HI" on social media!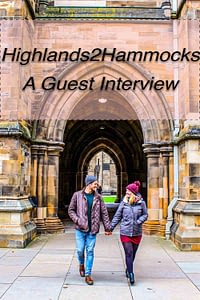 Stay Current & Sign-up for our Newsletter