Hello teaching friends..
So, the struggle is real. I am constantly searching for new Novel studies for read aloud with my classes. It seems like the ones I find are always too expensive or don't include the things I want. I teach grade 2/3 this year so I need something a bit juvenile, with basic comprehension questions and some connections built-in. My class can be like a scene from mean girls.. they are always picking on each other. Usually they isolate one person and team up on them, for a period of time and then on to somebody else. Needless to say, my novel studies choices have been very deliberate this year. However, it has been a struggle to find novels that aren't taught in the later years, that are applicable and appropriate to this grade level. I have struggled to find something engaging as well, as most of my class are boys. However.. I was able to find a few that focus on bullying, fighting, empathy, and social skills. Here is a review of novels with bullying undertones, as well as picture books!
Lemonade Wars – Jacqueline Davies
Ok, so this one is more about sibling rivalry and the lengths we go for in the name of competition. However, this brother and sister duo do some pretty mean things to each other, and later feel guilty about what they do to each other and end up making up. They steal money from each other, destroy things, call each other names, and the likes of it. It also has some deeper undertones in regards to a father no longer in the picture.
I created a Novel Study for this – Complete with comprehension questions – for a Grade 2-5 level (ish).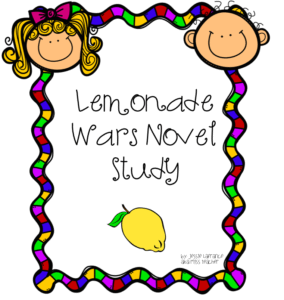 Wonder – R. J. Palacio
This is a very popular book at this point. Many teachers read it to their kids in grade 5 or 6. It wasn't read in my school last year, so I was totally planning on using it. This year the grade 5/6 teacher begged me not to use it because she likes to use it every year. Well she didn't have time this year and she got a transfer for next year.. so I totally could have. UGH!
I digress.. This book follows a student who is going to school for the first time, as he was always homeschooled due to a facial abnormality that causes everybody to stare at him. This book is amazing at showing us that even though some people may look differently than us, if we get beyond the surface they are just like everybody else. This book is now part of a series as well.
Stick and Stone – Beth Ferry & Tom Litchenheld
Ok, this book is seriously adorable! It follows two characters "Stick" and "Stone" as they get bullied and feel alone, but together they are better. Adorable picture book I highly recommend adding to your library. No matter what age your students are, it is a quick read, that gets the point across in a very, very cute way. Sticks and Stones may break my bones.. but names will never hurt me!
This book is perfect if your class is anything like mine. 90% of the bullying behaviour comes from outdoor play time, it rarely happens in the classroom during academic time. This picture book follows an aggressive, abrasive bully who intimidates her peers, before a new girl shows up and befriends her.. turns out she just needed a friend!
Stand Tall Molly Lou Melon – Patty Lovell
This is a personal favorite. I even used it in my final teaching practicum. It is all about staying strong, loving yourself, and not letting those judge you as anything less just for being different.
Molly's Grandma is her biggest cheerleader, she always is encouraging and gets Molly Lou to find appreciation in her differences. When she moves to a new school she has to reflect on Grandma's teaching and not let others get to her. There are some pretty cute lesson ideas for this one on pinterest. I opted to buy poster paper and draw my own "Molly Lou" with crazy hair, then had students write reasons they celebrate themselves on black construction paper with those awesome gold and silver markers. They hung it on the door into their classroom to help them remember their strengths.
The Hundred Dresses – Eleanor Estes
This is another personal favorite. It is about a girl who is too poor and everybody always makes fun of her and laughs at her. One day when she is trying to be included with the so called popular girls, she tells them that she has 100 dresses. They laugh and tease her endlessly because she always wears the same clothing to school. Eventually they find out that she was actually drawing these 100 dresses for a school project and they are quite beautiful. One girl feels especially guilty and wants to make it up to her, but by then she has moved away. Great for mean girls type situations, short chapter book type deal. It took me a week to read and discuss.
I will be adding more books a bit later! But is there any you use that I need to add to my library?
Comment below if so!
Share the knowledge, which is your favorite bullying book!
Related articles across the web