The West Coast is the Best Coast..
I might be a bit biased, but growing up in beautiful BC is something I didn't appreciate until I moved away. As well, now that I am old enough to love, enjoy, and appreciate wine.. I really miss it. The wineries are just amazing! There are so many options and choices from mass-produced well-known wineries, to family run, up and coming small establishments. We've definitely developed a few favorites over the last few years.
Wine Tastings
Now if you find yourself in the Okanagan you need to go do a couple of wine tastings! Most of the wineries offer wine tastings, some places are free, some are $5 or $10 bucks but if you buy any wine from them they wave the fee. A few select ones do charge, but when you think about the amount of wine they do give out, you can see why! A lot of people tasting for free can eat up their profits.
You can take a tour with a company, which will often only bring you to a few wineries and can be quite pricey. They often pick some of the more popular wineries so you miss out on a lot of the smaller, newer wineries. They usually only stay in a small area unless you go for one of the longer options. The benefit of this though is you can drink all you want and not have to worry about who is going to drive you.
However, it is often cheaper to just rent a car, or drive yourself, especially if there is a few of you. Somebody has to stay the designated driver, but you can rent a car for a weekend for the price of one person attending a half day wine tour. The benefit of this is you get to pick and choose which wineries you go to, when and where you stop, and for how long. When we went two years ago we started in the very south of the Okanagan in Osoyoos and then worked our way north to Lake Country. By the time we were done we had almost two cases of wine, and had been to 12 different wineries.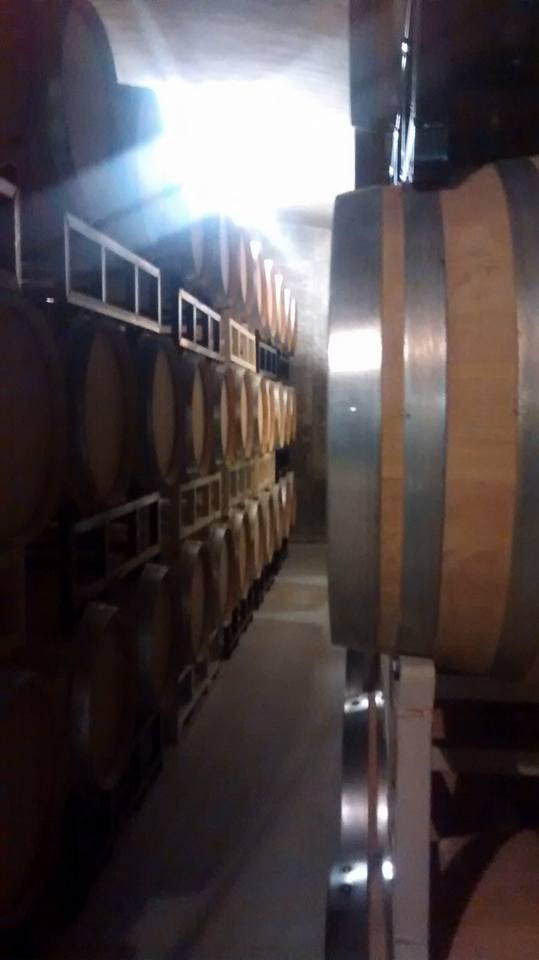 How do you decide which ones to hit up?
Well for us, we started out with the map that a lot of the wineries have in their wine stores and started picking ones we were familiar with, or sounded appealing. We then decided how to make the most of our day of wine tripping, either adding wineries that kept us on our way, or taking ones that would require detours off the list. We also added a few along the way that we liked the looks of when we were passing by. In doing this we found our new favorite winery, one that we absolutely had to go back to when we were there last week. To help you, we've compiled a list of the wineries and our impressions of both the company and the wine. These are our own personal opinions, they may be different from others, but it is just how we felt.
First Stop: Osoyoos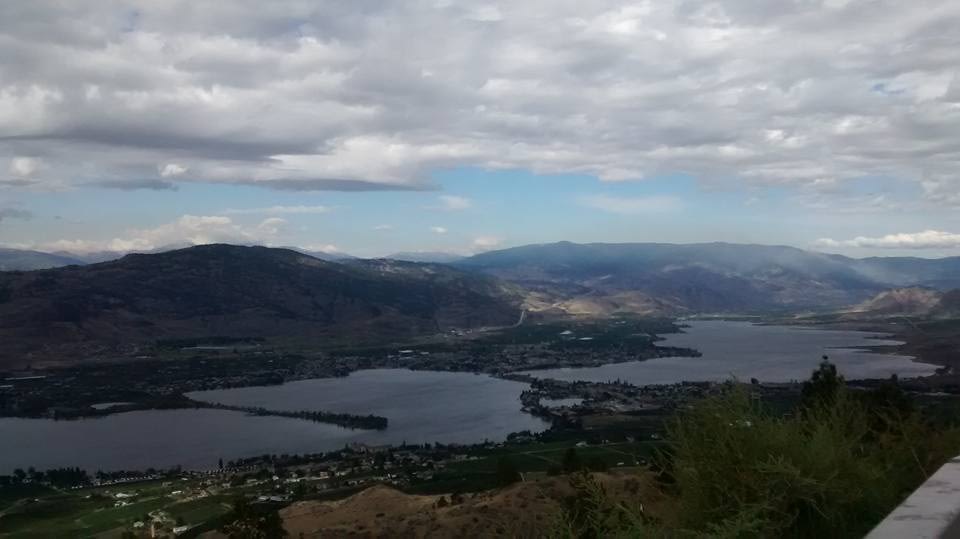 Nk'Mip Cellars is found in the Southern end of the Okanagan in the City of Osoyoos. This is the first aboriginal owned winery in North America, and we felt it was quite busy, with less of the intimate experience we were after. The wine was middle of the road and a bit pricey, but the buildings were new and beautiful. It also has condo buildings surrounding it, which for us made it feel a bit less authentic. We like wine shops in the middle of a vineyard! It is $5 to taste 5 of their wines, with the fee being waved if you buy a bottle. They also have a restaurant/lounge if you feel like stopping for a bite to eat.
We had to stop at this one, just based on the name. This is a small, family run operation, with a cute, quaint wine shop. If you drive an electric car, you even get a special parking space with a battery charger. BONUS. When you are winding up the highway 97 on your way North, this is a great spot to stop.
It is run by an (East) Indian family, and it sounds like they have opened an eatery to go with it. It looks to be authentic Indian food so now I am kind of wishing we had time to go back! Next time we are there we will definitely be going back. They were the nicest people!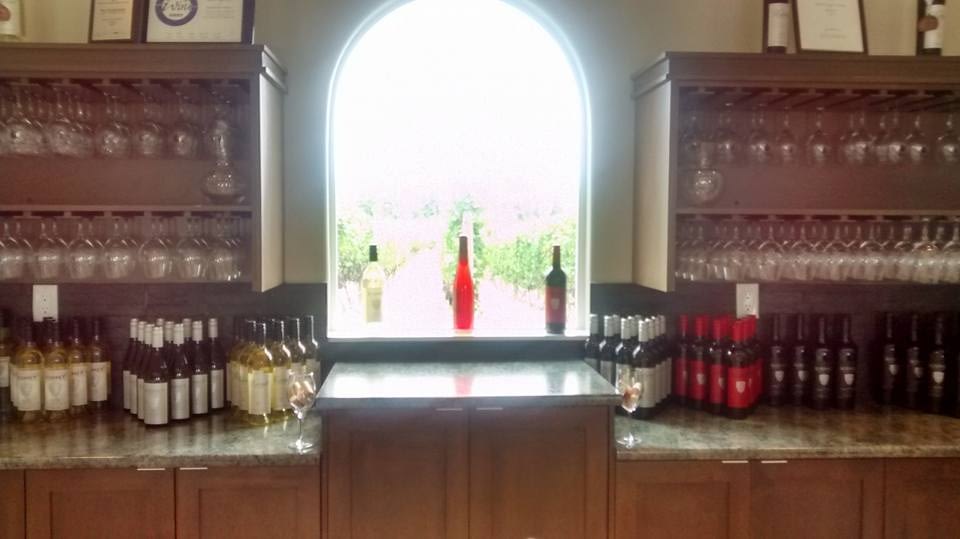 This winery is picturesque! It is on a hillside a bit off the highway, so it has beautiful views. They have a highly reviewed restaurant attached to the wine shop, and they allow you to tour through the building to see where the wine is stored and where the magic happens. It is a self-guided tour that allows you to go up to the bell house and down to the basement where the wines are stored. We were amazed by all the barrels of wine they had stored on the premises.
They do charge a $3 wine tasting fee, and this will not be waived under any circumstances. But, this $3 actually goes to charity so it is for a good cause. The money goes to the Burrowing Owl Conservation Society to help with the endangered species namesake.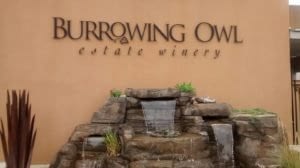 Oliver
Alright, Inniskillin might be one of the more popular wineries we visited. Their wine shop looking like a full on liquor store. They have definitely sold out a bit and are very busy. Much of their wine is sold across the country and they have another location in Niagara Falls, in Ontario. When we went a few years ago they had just moved into their new, and massive, wine shop.
There is a reason they are popular though, their wines are pretty good. We often see them as house wines or options on wine menus in Canada. We opted to buy a few of their wines that we couldn't purchase in the normal liquor stores, as most of theirs you can anyways. 1-2 tastings are free here, it's an extra $3 for 3 more. Might as well while you are there though, right?
Ok… the view from this place was fantastic. There were a few forest fires popping up around this time, so we got to watch bombers drop to the lake to get water and then fly up to the fires. Can't beat the view from the restaurant either. We elected to stop here for lunch because the recommendations from other people and wine staff had said this restaurant was the best out of all winery restaurants. We managed to get a table with a minimal wait, but advanced reservations is definitely recommended, even in the middle of the afternoon! The food was pretty darn good, let me tell you. Smaller portions though, so while I was satisfied, Jamie was still hungry and needed more food after our afternoon of wine drinking haha.
That's where it ended for us. We did buy one bottle of wine from this brand new winery, mostly because we felt a bit guilty. We felt that perhaps the concentration had been so much on the restaurant that they had forgetting to fully develop their wines. We were not a fan of the wines at all, and ended up using our bottle for cooking. This was two years ago now though, so maybe they have gotten it all under control now. And check out the view!
The back way to Penticton/Naramata
Now.. we could have stayed on the main highway and hit a couple of others, but we decided on back roads behind Skaha Lake to hit these next few up.
Yea, the name alone is amazing, their labels are even cooler. This is the type of wine we search high and low for.. the ones with personality and a great story behind them. The wine shop was busy, views are amazing. This is definitely always a fave with us. The wine is great, the vibe amazing, and the wine names and labels entertaining. Definitely put this one on the list.
You can buy some of their wines in stores, but not all. They've been adding to their wine list over the years, so we have some territory to make up! They even now have a wood-fire pizza restaurant to help soak up the booze from your previous stops! (Drink some more while you're at it)
Naramata Bench/Penticton Area
This was a happy find.. the name just spoke to us. The building is beautiful and when we stepped inside it was busy. The wooden bar top definitely was enticing. We enjoyed the wine so much that we gambled and bought a few we didn't even try. One of which was just being bottled while we were there and the wine master was bringing it upstairs to put on the shelves. How do you beat that? Another relatively new winery, definitely making their way to popularity with their quirky, fun style, and great wines.
Tastings $5 but waved when you buy a bottle (or 3).
Yes.. the name pretty much speaks volumes. For my Psychology loving friends, the wine names will have you loving them! Freudian Sip or Super Ego, amIright? I've been here a few times just because I love the name, the vibe, and the view. You can visit their "Farmacy" for a "Prescription" and stay for a bite. These wines generally don't last long in our household, apparently we need therapy! Haha.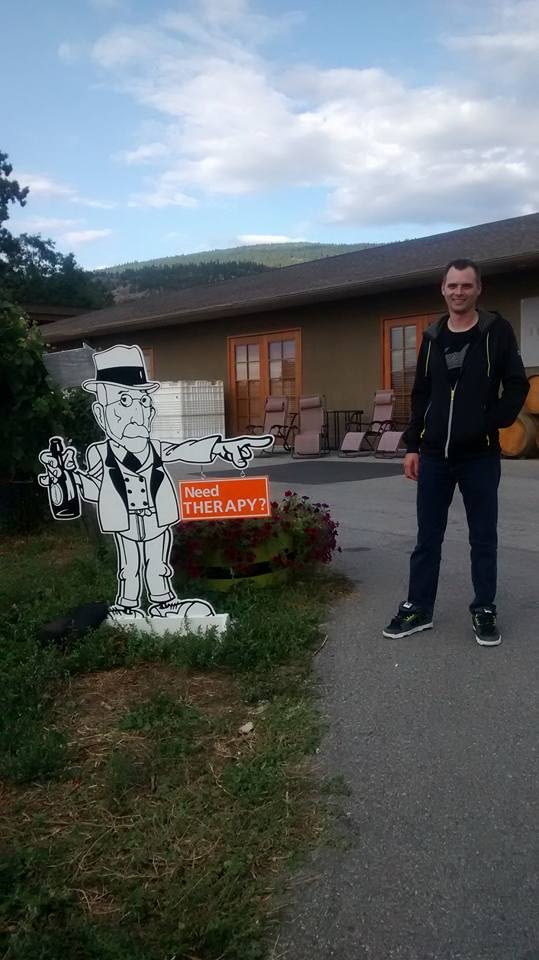 This still remains one of my favorites. I have been to this winery more than any others. It is small, charming, and quaint… it is also different from all the rest with crazy amazing views. This one is often not on a lot of the brochures listing the different wineries you should hit up in the area, I don't know why.. but I don't mind because it means you usually aren't fighting crowds. Tour buses are hard pressed to make it to this location too.. Which is a great thing in my opinion! More room for us!
Why is it so different you may ask? Well.. many of their wines are made of fruits other than grapes.. Yes, you heard that right.. fruit wine. It's like adult juice. SOOOOOOOO amazing. This is one you absolutely must try, as you will be hard pressed to find anything similar anything else. I have fallen in love with the Blackberry, Raspberry, Pear, Crabapple, ok.. really every single one I have tried there. I often have to limit myself. We might be ordering shipments from them, because they are original and amazing.
Wine tasting is free here, but if you want the special kinds you'll pay an extra $5. Save room in your case for these guys, you'll probably buy a few bottles.
So if Elephant Island is our favorite for being different, its neighbor Deep Roots is definitely our favorite for wine all time. Hands down, favorite BC wine.. if not any wine at all. Go here. Seriously.
When I first went to Elephant Island years ago, Deep Roots wasn't completed. So when we went back to EI a few years ago and noticed this one on our way, we just decided hey, we are right here.. let's try it. By this point we were 12 wineries deep and a lot of tastings had been had. But we loved everything they had let us taste. They told us about how they had only been open for a year at this point, and when we visited Labor day weekend, they had already sold out of a bunch. Jamie tried a few reds but couldn't buy any, they were already gone. I however, fell in absolute love with their Rose.. so much that when we were evacuated in Fort McMurray last year.. that was the first bottle I grabbed! Yea.. wine was one of the things we ensured left with us.. Wine = Priority, adequate clothing to keep us going, not so much. It was the first bottle I cracked, my memory is a bit hazy, but I am pretty sure when we safely made it to a friend's house, I half chilled it and poured myself a glass (a rather large glass).
When we were there a week ago, we half joked to ourselves that maybe we had really loved the wine because we were half snapped at this point. We had talked with the son the first time, who is the wine maker, but this time we got his father, the one who owns the property. He again, struck up a conversation while letting us taste a good 8-9 wines, to which we explained to him about how Deep Roots wine was the first thing we thought about amidst the chaos of a mass evacuation.. (he said he was going to use that story.. so if you go there.. ask him 😉 haha). Well, the verdict is.. the wine is truly some of the best wine we have ever tasted. Our views are not alone, they have won a large amount of awards, getting best Merlot, among others year after year. While being so new, you would think they needed a few years to perfect things, but no, they have just got it right from the get go! Our bags ended up being overweight for the flight, and we had to dump a few things and rearrange.. but come hell or high water our Deep Roots is making it back with us. Carefully wrapped in our clothing too.
Again, this is another winery that hasn't made it onto all the mass-produced maps (it is on some) and I am not sure a huge coach would make it is. We are hesitant to share it with people, because we want to be a bit selfish and keep this wine for ourselves. Each year they have produced more, and each year by labour day they are selling out. So.. needless to say this is one you really cannot miss. Plus.. check out the view: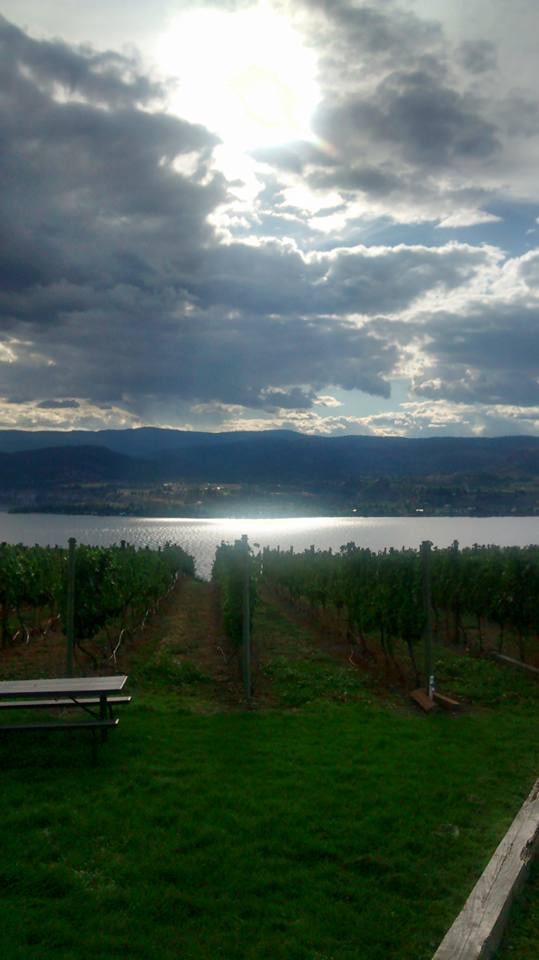 Kelowna/Lake Country and Area
Ok.. this remains a longtime favorite. The Cipes family and my dad seem to have run in the same circles, and Dad always talked fondly about them. This is an Iconic Kelowna winery, half because the wines are so good, but also because of the magical place that is the Pyramid. If you can find yourself on a tour, getting inside it, you are lucky.
Growing up in the Okanagan and going to school here, I was actually lucky enough to get an exclusive look at this winery in a Geography class I took in University. I had enrolled in a Geography of Wine class as well, which unfortunately was cancelled due to the professor (who was my favorite) going on sabbatical.
This Winery has become a very big deal, gaining popularity, but for those who have called Kelowna home, we know about it's "Hippy-Dippy" roots. The pyramid is known to be a very spiritual location. Great views, the winery and restaurant hold many special events and wedding ceremonies and is extremely busy throughout the year. Go early. Buy a lot. Oh.. and by the way.. did I mention this Winery is Organic? Yea.. even better!
This is another favorite winery. The views are unreal, the wine great, and they maintain the small, personal experience even though they have gotten quite popular over the years. Award winning,, with a great vibe, and a local feel. Many friends have worked here over the years. One of the Okanagan staples it seems! Great wedding venue too, it was always on my list!
Honorable mention:
While I lived up the road many years ago, this winery hadn't really made it to the map yet.. however, I happened to try a bottle of their wine at one of our favorite local restaurants "Ricardo's Italian Eatery" and fell in love. When I get a chance, we will definitely be hitting them up. Try out Arrowleaf Cellars if you have time!
Ok.. there is probably a few I have missed.. but all this talk about wine.. I think it is time to pop open a bottle! If you've been wine touring in the Okanagan and feel I have missed one, please write it in the comments below! Next time we head there, we will definitely have to try it out! Or if you have been wine touring somewhere else in the world that we cannot miss… please let us know! We are always open for more wine adventures! Happy drinking!
By the way.. we totally picked up these products on our travels.. if you are a wine lover, take a look because we cannot live without these.. mainly because we never think of our wine until we are ready to drink it haha.

Related articles across the web