6 Blogging Tips I Wish I Knew When I Started
So you have decided to start a blog, an online store, or some sort of an online presence.
Whether it be a personal hobby, a business blog, or a store there are so many things to know before you get started.
It is not as simple as having an idea, creating a WordPress site, or coding from scratch and hitting publish. 
There is so much to learn and keep up with.
Some of it includes, marketing/branding, content writing, grammar/spell check, content creation of videos or images, customer service, social media presence and the list goes on.
We have made plenty of mistakes, and there is so much I wish we knew when we first started blogging. 
I am sure this is a similar feeling many of us who have been at it for a little while and have learned as we go.
These are 6 blogging tips I wish I knew when I started blogging. I hope this helps new or maybe even existing bloggers so you don't make the same mistakes we did.
It will definitely save you time in the long run.
1. Make A Plan Before You Start Anything
Planning before you jump right in seems like a no brainer. But we are guilty as I am sure many are.
We start by saying, "Hey let's start a travel blog, pick our name start our site and get on social media. Done."
Yeah, this isn't the best way to do it, trust me. Put some effort into planning what you eventually want to achieve. 
Do you want to start affiliate marketing? Selling products on your blog? Do it for an informative hobby or diary? Or whatever other reason.
Think of your end goal and that you are going to be building a brand. You have to have a structured plan on how you are going to achieve that goal.
You may not know all of this right away, but know that having a plan will help. Also know that you can change or adapt your plan as you go.
Once you have an end goal, start focusing on who your audience will be, and what value your content will provide people.
Choose a name for your blog, business etc. Take your time with this, as you do not want to be changing this in a few months or a year. 
Think long term, and realize you are building a brand. 
When you pick a name, make sure that a domain is available for that name or something similar or relevant to your brand.
You can check domain names for free almost anywhere just by doing a google search.
When you choose a name, also check availability on the social media platforms for availability.
Everything should be the same, or at least very relevant to the brand you are going to develop.
For example, our website/brand is He Travels She Travels.
We have the domain, and all of our social media is either hetravelsshetravels, or Theytravel. It is relevant to each other.
Get on social media as fast as possible, and start building followers and relationships.
2. Choose the Right Host and Platform
This is an important process to research before starting your site. If your host is slow, or unreliable it will not be a good experience for your users.
There are so many options available, so definitely do your homework.
Try to understand the differences between shared hosting, dedicated servers, as well as other services offered by the host.
For most people, you will be fine starting on a shared server and then once you begin generating some traffic you can upgrade to a dedicated server.
Most hosts have dedicated WordPress support lines, or chat functions available.
Some hosts that are WordPress friendly, are Bluehost, Hostgator, and Siteground.
Again, these are just a few of the thousands available. You can also buy your domain name direct from these hosts.
We are with Bluehost, and will be switching to Siteground once our term is finished.
They offer great support, but we found the prices to be a bit higher and the hosting is consistently slow.
Another important part to research is what platform are you going to use if you can't code your site from scratch. 
WordPress is one of the largest and most popular, and a very easy system to use.
With thousands of sites built on it, there are endless themes, plugins and support threads available for WordPress. 
There are plugins available for converting your site to e-commerce if that is the way you plan to go.
If you are strictly setting up an e-commerce site, then I would definitely suggest Shopify.
Other platforms available are Wix, Weebly, and Squarespace.
I have not used any of these, as after doing my research WordPress was what was right for us.
I cannot stress this enough. This is a major flaw I wish I had known when we first started our site. When you are adding images to your posts, or pages they must be optimized.
We try to keep all of our images below 100kb if possible, as it can drastically slow your site down when you have multiple images that are full size and 5MB.
On top of optimizing your images, resize them properly. If you are adding a hero header or featured image, resize your image to fit this. 
For example, don't leave a 4500×2500 size image that is 10Mb as a featured image. You can likely get away with sizing it to 1920×1080, this alone will reduce the file size.
Then you will want to compress the file format and save for web if you are using Adobe. There are free services that can help edit, or resize images. Some of them are Pixlr, GIMP, and Canva.
I assume other platforms like Wix and Shopify have image optimization plugins like WordPress.
You will want one of these installed on your site so it can compress your images even more without sacrificing quality.
Another thing to ensure when you upload images, is don't have a generic filename like dsc_0001.jpg.
Save the file image with a name relevant to the image and post. This helps with the SEO part.
You also need to add a title to the image, and alt text. Alt text is for screen readers and will help make your site more friendly for people with impairments.
Alt text should be a brief description of the image. 
Try to use a keyword in your Alt text only if it is naturally flowing, this also can help with SEO.
SEO (Search Engine Optimization), is probably one of the most important things I wish I knew when we first started.
Start reading and learning about it now if you don't know what it is.
It is what helps you rank on search engines, and trust me, it is so much more work going back and editing 30 posts for SEO than it is to write the post with SEO in mind.
SEO should not take away from your content. It should have keywords or phrases in your content that flows naturally. 
Do your keyword research once you have chosen a topic, but before you write your content.
You want to be able to naturally incorporate your keywords or keyword phrases into your content while your write. Not going back into your content and forcing it for SEO purposes only.
The paid platforms for this are definitely the best, but they are crazy expensive and I personally am not ready to shell out big bucks yet.
Some of the best paid platforms are Moz, Ahrefs, SEMrush.
However, there are many others out there, and some of these also have free trials. Use the free trials, it is worth it for a few keywords.
There are some decent free options available that will help you get started. I really like Ubersuggest, although it can be quite slow at times.
You can also use Google Search (which you will have to do manually), and many other free options.
The downside to Google Search is it will take you a very long time with little information to go on.
Using searches related to your keyword search (as in photo below) is a good way to find alternative keywords. 
Check out Search Engine Journal for a great SEO resource. They have plenty of relevant articles about SEO.
We had, and still have some content that maybe isn't the best out there. I am able to recognize that, and am slowly working of fixing it or replacing it with better articles.
This is definitely one blogging tip I wish I knew more about when I started.
When it comes to Google, and ranking, content is king. Your content has to be relevant to the keywords you use, as well as be useful to your audience.
Start with a topic. Choose a title, but don't worry too much about it to start. Use the title to help guide your content. 
Once you finish writing your content, tailor your title to relate to your topic, and make it catchy. For example, writing this post, I had a title to start. I changed it three times once I finished.
Use SEO tools, like Yoast or Rank Math SEO for WordPress. These tools will help you refine your post when you finish it from keywords, titles, urls, and readability.
Remember, content is king, and make sure it gives value to your audience.
6. Use Free Tools and Resources
There are many free tools out there to help you grow your site. Google Analytics, and Google Search Console are an absolute must to have linked to your site.
Use free SEO, backlink, broken link audit tools to check the status of your site. I didn't know about many of these when I first started, and once I used them I was able to clean up plenty of issues.
Again, Ubersuggest is a good free audit tool, there are also others that have free trials but you generally have to pay. If money is no object, then go ahead and pay for the services, it may be worth it.
Check your speed index as well. Use Page Speed Insights and Pingdom for this. Both are free, and they can help guide you on how to improve your page speed.
Don't focus too much on the actual overall score as hitting 100 is unlikely to happen. Focus on the load time for both desktop and mobile. 
Tip: Always create your site for Mobile First, as the majority of people now use mobile to do their searches. This is also a Google standard.
By no means am I an absolute expert on any of this. These are the 6 blogging tips I wish I knew when I started blogging.
Knowing and researching these topics before starting can save you a ton of grief down the road.
Write out your plan, take notes, read other blogs. Even look on Udemy for free courses as they sometimes have them.
I hope this helps new bloggers, or even some that may have recently started.
What are some of the things you wish you knew when you first started?
*None of the links are affiliates. These are just resources that I know about and have used to help guide me.*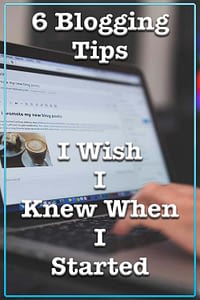 Stay Current & Sign-up for our Newsletter