Beautiful Vancouver
Vancouver is one of those amazing places we like to go back and visit whenever possible. Besides having family that live in Vancouver, there is also something about listening to ocean waves and smelling the salty air. On this last trip, I had extended my layover in Vancouver to get about 24 hours. Here is a breakdown of what I did and what I recommend if you have limited time!
5:00 PM
After arriving at the Vancouver International Airport, I immediately get onto the Skytrain. It has regular service and can get you to most areas of the city relatively quickly! As I usually choose to stay downtown where the action is, it is quite easy and simple to get onto the Canada Line and get downtown in about 40 minutes. If you are there early enough in the morning, you can buy a day pass for $10 which includes the airport and any travel until the end of the day. I lucked out an a couple from Europe were leaving and had a day pass which they passed to me (thanks to whoever you are!). Otherwise, it is a $5 base fare from the airport, then you need to add on the zone part of your trip… almost better to get a day pass anyways incase you want to head somewhere later that day.
6:00 PM
I chose to stay at the Hyatt Regency this time, just for its prime location and deal on Booking.com. When we go to Vancouver we like to splurge a bit. Plus.. check out this view!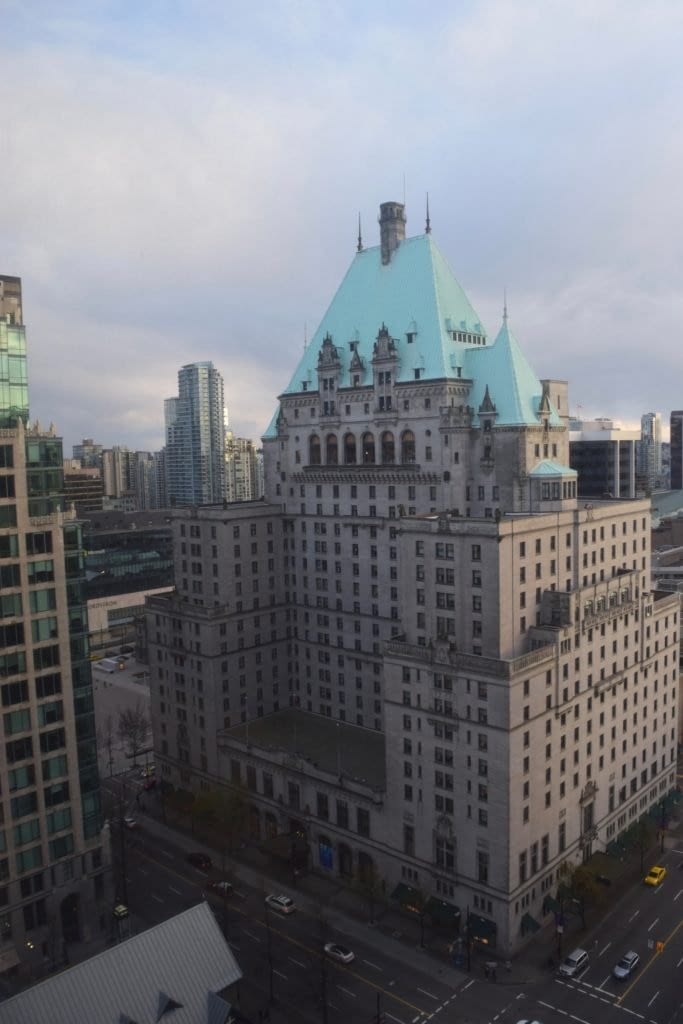 If you feel like staying at that fancy hotel in the picture, it is called the the Fairmont Hotel Vancouver. Personally, I loved the Hyatt, the staff was friendly and helpful, there is a Starbucks in the lobby (even though when in Vancouver I drink Blenz coffee), the rooms are well appointed, spacious, and comfortable. However, if you are looking for a view, I also really enjoy the Pan Pacific, which has stunning views of the Vancouver Harbour and Stanley Park (more on these guys later!). This is a view from the Pan Pacific.. don't mind me in my hair towel and the reflection.. Hah.
If that is a little too rich for your blood, there is a lot of different hotels you can stay at within downtown, or even outside of downtown that are more reasonable for a longer stay. There is some amazing hostels downtown.. I've stayed at the HI Vancouver Downtown.
Anyways… I digress.
7:00 PM
After checking in, and snapping the obligatory "Oh my god look at this view!" for my insta and snapchats.. gotta make people jealous ya know? Haha.. jk. I headed North towards the Pan Pacific and Vancouver Harbour. It is really something spectacular there just to sit and watch all of the people, and the large cargo ships doing their thing. I usually grab a coffee (or peach shaken iced green tea – to die for!) at Blenz and wander around a bit. Canada Place is fun to explore and walk around. This time I opted for a few photos (see below) and headed to Gastown for dinner.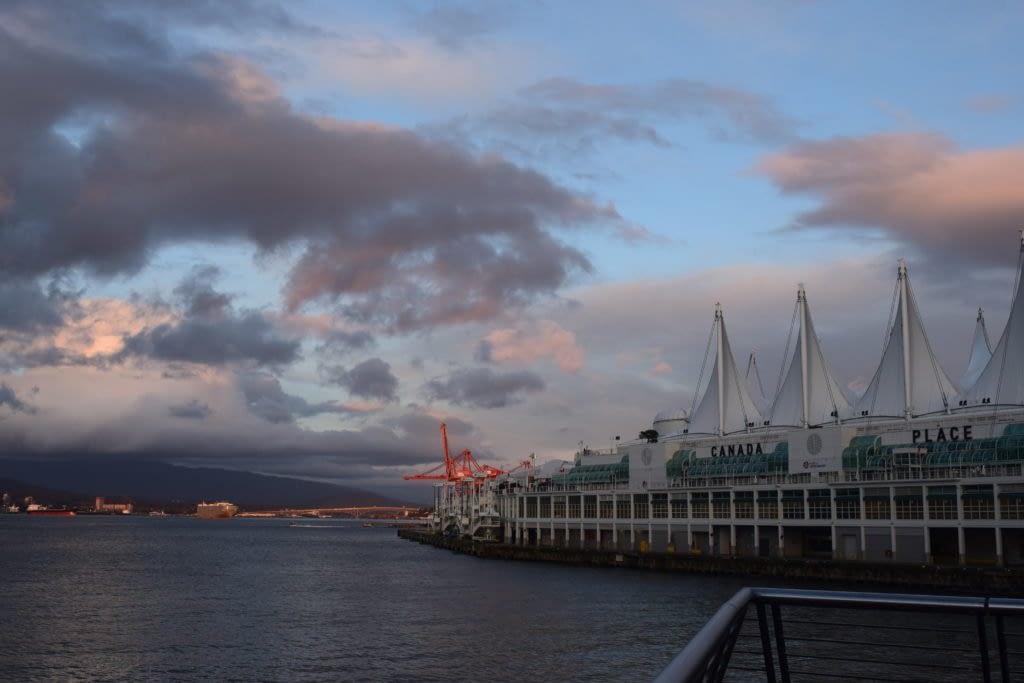 In Gastown there is a lot to do, from walking around and checking out the shops, getting your obligatory picture of the Steam Clock (First one in the world, every 15 minutes it goes off, but is blowing out steam all day long), and have a great dinner. I chose to head over to Tuc Craft Kitchen because I have friends there and the food never disappoints, but there is plenty to choose from in this area. Momo Sushi is another favourite, because in Vancouver the sushi is amazing, and fresh. Not to mention relatively cheap. We also loved Alibi Room, the brunch was great and the place is beautiful inside.
When done with dinner, you are in prime location to enjoy the nightlife of Gastown and some of Vancouver's finest. There is a bunch of trendy bars/lounges in this area, plus some awesome holes in the wall. It can get busy down there, as it is a mixture of locals and tourists alike. I chose to retire fairly early, as I had big plans in the morning.
8:00 AM
I started out early this morning. There's a great spot for breakfast that looks at Vancouver Harbour that I usually hit up for the view and the eggs benedict called De Dutch. It is a bit of a BC staple. However, as I was there on Easter holidays, it wasn't open yet. So instead, I chose to grab a Mobi bike and take on the Vancouver Seawall and Stanley Park first thing in the morning. The trek usually takes about an hour and a bit if you are on a bike, and can take 2-3 hours if you are walking and stopping to take a lot of photos, like most of us do. You can rent the Mobi bike from a bunch of different locations all over Vancouver. It costs $9.75/24 hours which is great. However, you must note that this is in 30 minute increments. Meaning you must only ride for 30 minutes max at a time, then find another Mobi station and exchange, otherwise you get charged an extra $5 per 30 mins overage.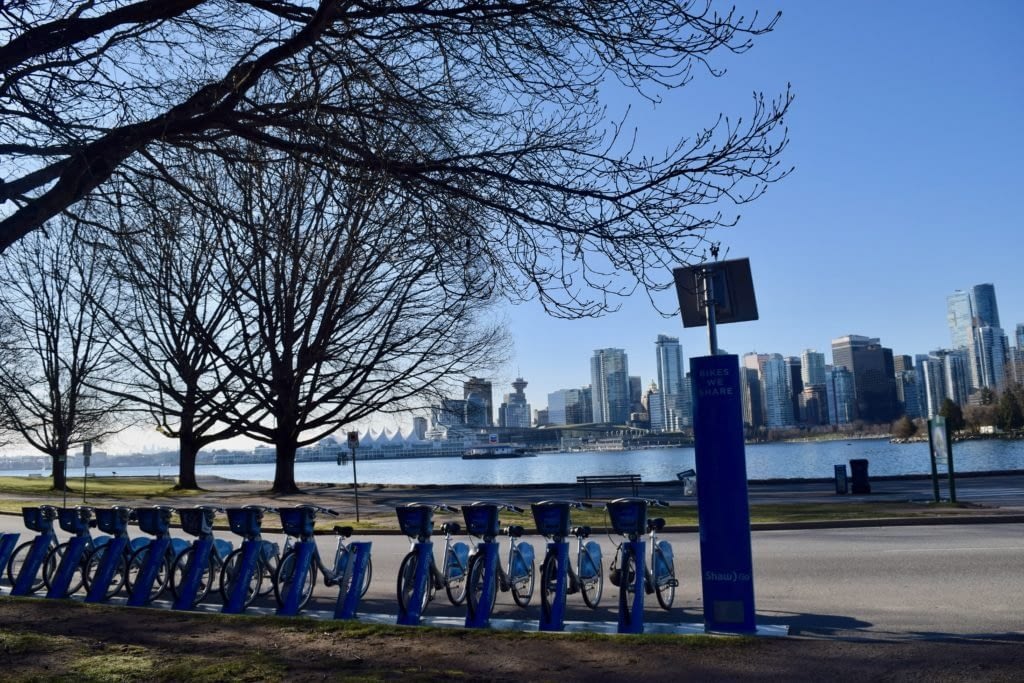 Needless to say, because I kept stopping to get photos, one of my 30 minutes turned into 36 minutes.. so those extra 6 minutes cost me $5. However, I went with the Mobi bike because they have stations all over the city in fairly convenient locations, including most of the Skytrain stations. You also get a helmet. There is these little inserts you can put in, because I don't like sharing hats, but wearing a helmet is the law in BC. I actually had a touque with me that I opted to wear, just for sanitary reasons.
9:30 AM
English Bay – this is on the other side of the Vancouver downtown, looking west to Vancouver Island. There is a few beaches over here, and the path from the Seawall and Stanley Park keep going all the way around. I grabbed a coffee and kept trekking around, snapping photos and enjoying the Cherry Blossoms that were out in full force. Just walking and exploring are my favourite things to do in Vancouver.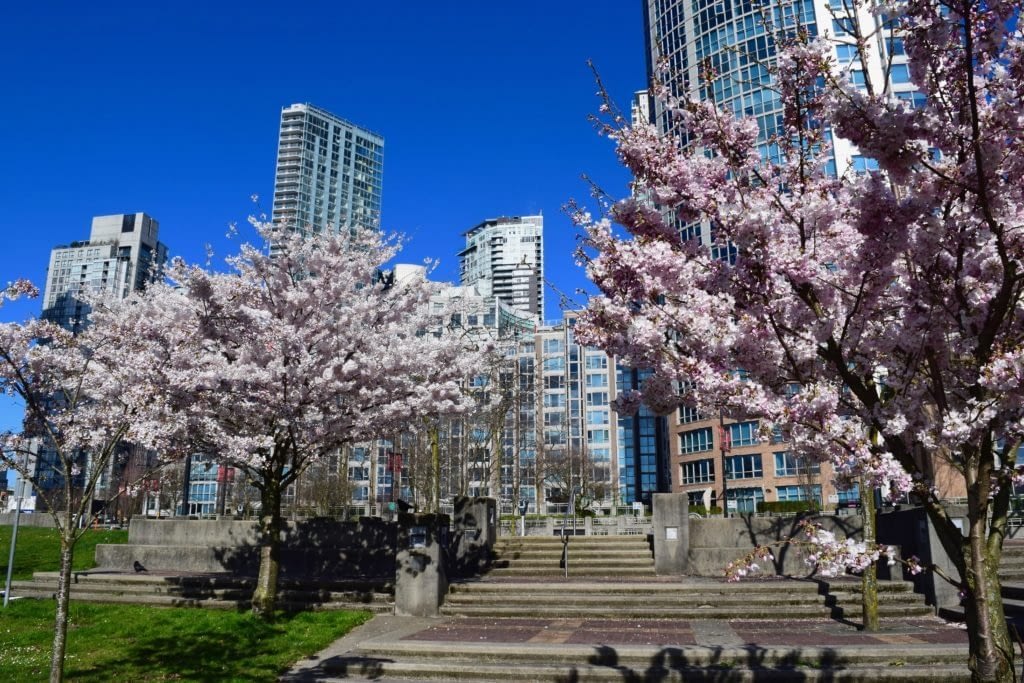 10:00 AM
Shopping time! Yes, I had to. I love the upscale stores and window shopping of Robson Street. It's busy, full of tourists, you can stare longingly at Tiffany's and Coach (unless you can afford them that is, we prefer to spend our money on travel). If it is a crappy day out (like Vancouver is known for: dreary and wet), there is also Vancouver City Centre, which is basically a mall that is half built underground. It is full of business people on their breaks, locals, and tourists alike. I needed new shoes after one of mine crapped out mid cycle.. so I ventured in for some new footwear.
12:00 PM
Lunchtime! Vancouver has tons of amazing eateries. I met up with an aunt who shares my love of the Vancouver staple of Cactus Club. It is a chain, but a bit more of an upscale chain. They have some pretty prime locations all over downtown Vancouver, with some great views. You can also hit up the Vancouver tower, if you want the cliche tower that every big city seems to have, complete with 360 views etc. Or.. SUSHI! If you haven't had it yet. There is a few sushi places that even have all-you-can-eat sushi. Yes. It is a thing. And it is WONDERFUL! Vancouver is such a mish-mash of cultures you can find almost anything if you look hard enough. However, with the Asian influence of the immigrants who have made this their home.. I generally like to stick to the Asian cuisines. There is also a lot of great craft breweries too. One of my favourites is the Stanley Park Brewing company – their Summerset Wheat Ale – Peachy amazing awesomeness. Drool..
1:00 PM
I spent the next bit walking around False Creek. If I would have had time, I would have gone to Science World, because I am a science nerd and it is my favourite. Instead I opted to get on the False Creek Ferry for a trip around this area and to get to Granville Island. There is either the Aquabus or the False Creek Ferry as short little ferry rides from downtown Vancouver and out to Granville Island. Most people choose Aquabus because they have their little rainbow colored boats, but I chose the False Creek Ferry just because they were less cramped and there was less of a wait at any of the stops. Most of the stops are the same, just a bit of a different route, and costs are the same, so I opted for less crowding. It was kind of nice to have the boat to myself.
2:00 PM
Granville Island is definitely one of my favourite places to hang out. You can check out the Granville Island Brewery and get a nice tasting and tour of what they have to offer. You can hit up the market and get fresh fruits/veggies/meats/cheeses etc. all from local vendors and farmers. There is amazing breakfast, lunch, and dinner options.. plus great sweets if that is your type of thing. Not to mention the different crafts or souvenirs you can buy. There is a really nice restaurant called the Sandbar, which is perfect for a nice lunch, or a romantic dinner out. There is usually live music, hordes of people, and great eclectic shopping opportunities, including some aboriginal artifacts/art. I grabbed some gelato, found a great spot to sit outside to enjoy the sunshine and people watch, and wasted a good hour before I realized it was time to get my stuff and head to the airport.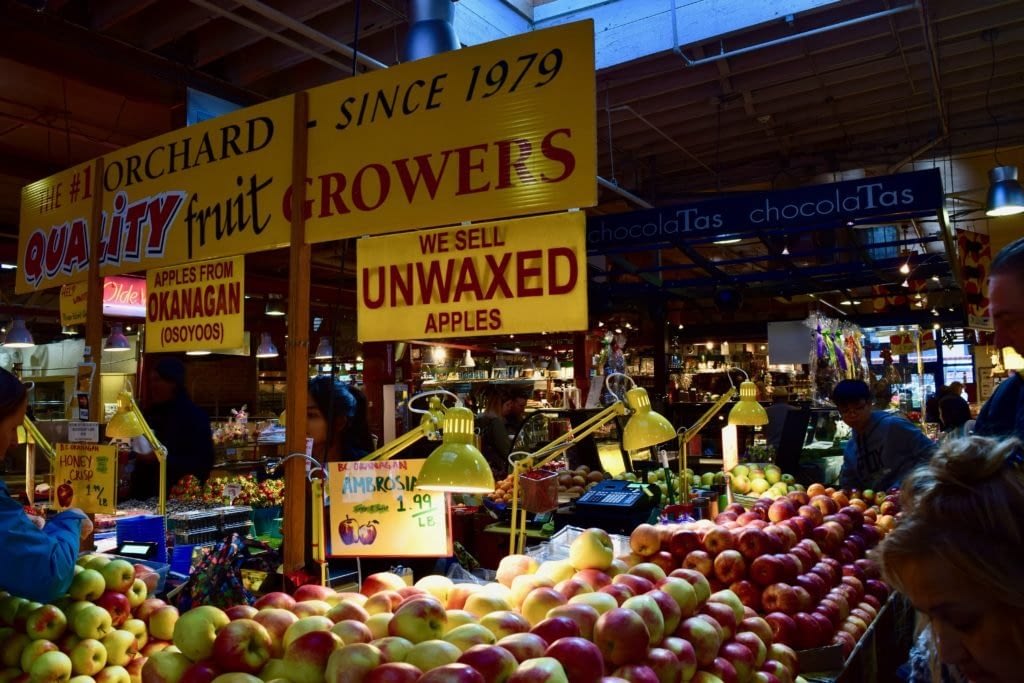 Finale:
Vancouver is hard to do in just 24 hours. You really need more, but sometimes time doesn't allow it.. I made the most of my 24 hours between visiting friends/family and exploring, but in the end I was pretty tired! My suggestion is to get a bit more time there so you can really explore, especially if it is your first time! If you have more time, check out our blog on the Top 10 Things to do in Vancouver! Vancouver, honestly, is one of the best places to see in Canada, followed closely by Banff (Rocky Mountains) and Montreal. Or, if you have more time in British Columbia, head to my hometown of Kelowna and check out all the wineries! You can read about our favourites here! Until then… enjoy! And if you have any places you feel are better choices to do in Vancouver during 24 hours, by all means comment! We are open to suggestions for our next trip to this beautiful west coast city!