10 steps of how we killed a 12hr Layover
We landed in London at around 6am, running on maybe 4 hrs of sleep in the last 32 hrs. Due to work and previous flights and layovers in Canada we were itching for a bed. However we wanted to make the most out of a quick layover in London. 10 simple steps of our experience and how we did it:
Heathrow airport is great for necessities. Not for sleeping….unless you pay for it. After customs, we stored our bags at a baggage storage for the day. This cost us maybe $20 Canadian……there is a currency exchange right across from the baggage storage.
For cost effectiveness and to experience as much culture as possible we took the London Underground (https://tfl.gov.uk/modes/tube/). What a great experience. The employees for the ticket sales were very helpful and informative. We bought a pass that allowed us unlimited travel for the two of us for $80 Canadian. However we did not use this full amount for the round trip and got half of it refunded once we returned to the airport (more below).
We used available maps to decide where we wanted to get off (I suggest downloading Maps in Google before leaving your home country to keep data costs down). We took the Piccadilly Line (which is 24 hrs) and is a direct line to the downtown area. There are plenty of stops to get off that allows walking distance to many of the attractions. We got off at Leicester Square. The Underground is very simple to use and understand so no reason to be concerned about getting lost. And worst case scenario, any of the many locals on the train would be happy to help.
We had a much-needed breakfast at a great local breakfast joint right across from the Canadian Embassy. This was totally by coincidence and not planned. We started walking through the downtown area just navigating where we thought was the right way to go. Loving the old buildings and architecture snapping pictures like any good tourist we made our way to Big Ben (Elizabeth Tower). There are plenty of well-marked signs along the way too when on the main roads.
There is a lot of amazing buildings and plenty of shops in and around this entire area. We were also very near the iconic London Eye, however keep in mind we were running on next to no sleep so did not make the walk over.
We also knew we were near Hyde Park, which will lead you right to Buckingham Palace. Hyde Park was beautiful to walk through and honestly looked like it was right out of a fairy tale.

Hyde Park

7. We made our way to Buckingham Palace. Literally had to push through hundreds if not thousands of people so we could admire it. Surprisingly not a lot of guards or nearly as much security as I had expected.
8. After walking all day and on little sleep we were exhausted. We started making our way back to the Piccadilly Circus station. It was past the palace and we were ever so lucky to see a display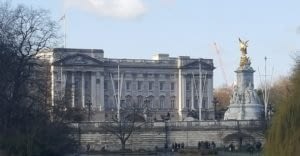 of the Royal Guard coming by us on horseback. (Video Below)
9. We easily found Piccadilly Station shortly after this due to the help of well placed signs, and a previously downloaded Google map. Back on the Underground with a simple swipe of our unlimited day card, we made our way back to the airport with plenty of time to spare.
10. There were clear signs of where to get the money returned for the unused amount on our transit pass. Along with plenty of helpful staff around to guide the tourists that were starting to flock in as it was the middle of the afternoon. We got our money back with maybe a 15 minute wait and no hassle. We also retrieved our baggage from the storage with no damage, and exchanged our left over pounds back to Euros.
All said and done, London's main attractions can be seen in a matter of hours. I would definitely like to return and not be so exhausted and pressed for time. We tried to sleep in the airport before our next flight to Athens.