Coast to Coast
Here we go! We plan to move away from Canada in the next two years. We have been here, done that. But before we leave, we need to make sure we have seen the entire country from one coast to the other…
Enter Vancouver…
I've been able to spend a fair amount of time in Vancouver over the years, and even lived here briefly for about a year a few years back. It is still one of my favorite places to visit, and it is one of the most beautiful cities to visit. Vancouver is a very tourist friendly city, with a skytrain taking you directly from the airport to the downtown district in a matter of minutes. There are buses, skytrains, and even water taxis to help you get around. It is also a very walkable city, making it easy to see some of the great destinations by using a good pair of walking shoes.
Below, I have compiled my top 10 favorite places to visit in Vancouver, not only as a tourist, but as somebody that lived there for awhile. If I missed something that you think should be top 10, please comment or contact me!
10. Visit the beach or go skiing!
Much of this depends on when you are there.. in Winter there is amazing skiing right in Vancouver's backyard. Summer.. there is plenty of beaches to get your tan on!
Skiing
At night, on a clear day, you can often see the ski hills from the city. If you are a snowbunny or boarding guy, there is plenty of opportunities for you. Cypress and Grouse Mountain offer close options for some time on the slopes. But, if bigger is your style, you need to make the short (hourish plus) trek up to Whistler Blackcomb. You can't beat Whistler, it is where the 2010 Olympics held a lot of events, and it is one of the best skiing locations in the world! While I am not a big skier (read: I don't ski at all anymore), Whistler offers plenty of nightlife, people watching, and hot tub sitting opportunities. It also has world class restaurants, and amazing views.
Beaches
This is more my style. Vancouver has plenty of beaches from your nudist friendly Wreck beach out past UBC, to your busy, family friendly beach like Kitsilano beach. I like kitsilano beach, because if the water is choppy or uninviting, they have a nice massive pool overlooking the beach. Plus, the photo opportunities from here are awesome. You are across an inlet from downtown Vancouver, looking out towards the North Mountains and out to sea.
If you are downtown, heading down to the English Bay area yields some good beaches as well. You will find a lot of tourists out here, but also a mix of people who live downtown. Further North you can find Second Beach in Stanley park, which also has a pool. My personal favorite is Third Beach, although we didn't go during the day. It was often a place where we met up for beach bonfires away from any hustle and bustle. You miss the city lights and rush, it's a bit secluded and feels like a nice getaway.
Spanish Banks is also a beautiful area to check out. Nestled out between Wreck beach and Kitsilano, if timed right, you can have plenty of beach to run around on, and shallow waters to swim in.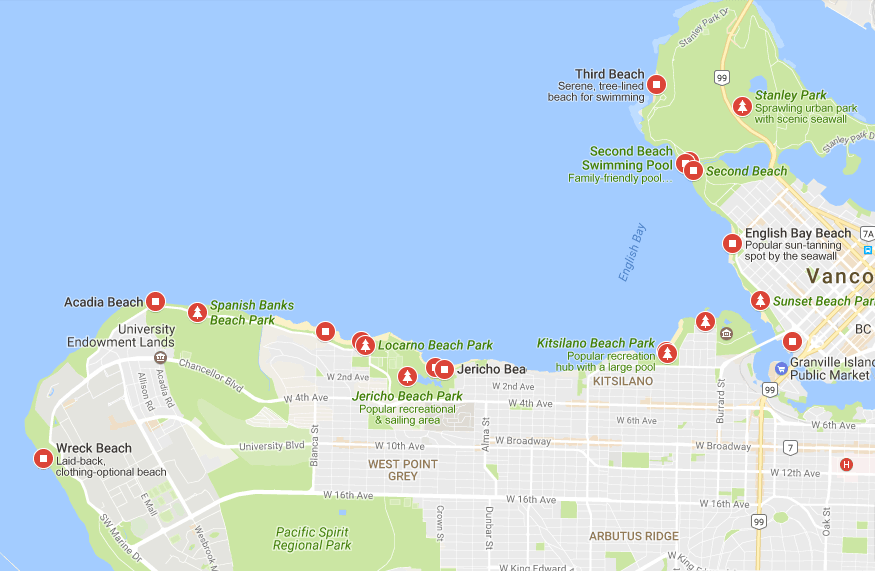 9. Kitsilano Area
The Kitsilano area is super trendy, where you can find a mix of university students, tourists, and some well known stars are known to inhabit this area. Kitsilano is home to many eclectic shops, restaurants, and parks. You can walk around many of the streets from the beach area into the more commercial areas, passing by a lot of interesting architecture. If you are going to go shopping, this area has a lot of authentic and small business owners, I find it is better to support local!
This area is home to many of my favorite lounges and restaurants. My favorite go to over the years has always been a little Mexican restaurant called "Las Margaritas." Everytime I am in Vancouver, I have to go, I crave their salsa and chips, that greet you when you sit down to eat. Reservations are recommended though, it is a quite well known and busy place. (Click on the name to make reservations).
8. PNE – Pacific National Exhibition
The PNE is a Vancouver staple. If you are there during the warmer months this is an awesome, busy, fun place to take the whole family. The PNE has rides (Playland), great street/fair food, and even a market. They also host a variety of events throughout the year from concerts to special events, and a whole lot more. You can easily get lost and spend a whole day here. The City of Vancouver has been working over the past few years to enhance the whole experience and add on more attractions to the general area, so even if you have been here before, things have probably changed!
7. Eat like a local
If you are anything like me, you LOVE sushi. My favorite thing to do in Vancouver is eat. Vancouver is a very multicultural city, and thus comes with it a lot of authentic eats in different areas of town. Being ocean front allows it access to fresh seafood and the sushi can't be missed. Not only is it cheap and abundant, but it is incomparable to what I have found other places in Canada. You can find all you can eat places on Robson Street downtown, or smaller, family run shops in the Commercial area of town (accessible from the skytrain – take the Expo Line from downtown out to the Commerical-Broadway station and have at 'er!). The Commerical-Broadway area is also a good location for local shops, fresh local produce, and great coffee.
Vancouver has a wide selection of restaurants from high class, expensive, chef superstar owned locations, to authentic family run "dives" that will fill you up for cheap. Just walking around any area you are in, look for the busy locations. Vancouver is a very social city, with the locals often out eating and drinking with their friends. If a place looks busy, often it means it's a great local find. When all else fails, use an app like trip advisor or zomato to find good eats close by!
6. Be a kid again – Science World/Vancouver Aquarium
Maybe it is the science teacher in me.. but I absolutely love Science World. It is a great place to take kids and adults alike. It can get quite busy, but it is so fun to play with all the hands on activities they have, and you hopefully learn a bit too. Keep those brain cells building and working 😉 Science World can a bit pricey, if you are a budget traveler, as there are plenty of other free activities you can choose instead. For entrance and one OmniMax film, you are looking at about $30 + tax per person. Look at spending roughly 3-5 hours here, depending on if you watch a film, have kids, are a science nerd like me..
The Vancouver Aquarium in Stanley Park is also another great place to go if sea life is your thing. At about $36 a pop for adults, if you have been to other aquariums and are on a price crunch, I would choose Science World instead!
5. Drink Beer like a local
BEER!! Who doesn't like beer? Vancouver has a lot of small, local, craft breweries. Many offer tours, or have small lounge/restaurants with them. It would take a whole blog post to go over all of the great beer finds in Vancouver, so I will just mention some of our favorites:
Granville Island Brewing –
This small, local, brewery has now sold out a bit and made it on the big scale. If you are headed down to Granville Island (you will find information down this list on it) it is worth checking out and getting a taste of their selection. It can get quite busy here. Last time I was there, they only had snacks, not a full kitchen, so plan to get food elsewhere like the awesome market.
Stanley Park Brewing –
Their peach beer is to die for. Probably my favorite summer beer. Crisp peach flavors mix the craft brewing flavor, with a British Columbia grown fruit. YUMMMMM!!!
Big Rock Brewery –
Big Rock has really made it big in Canada. Another big Canadian find, brewed in both BC and AB.
Seeing I am not about to reinvent the wheel, you can find a complete list of stops for your Beer Train here – CHEERS!
4. Capilano Suspension Bridge/Lynn Canyon/Grouse Grind
Capilano Suspension Bridge is a well know tourist hangout, but it can get pricey as it is by admission. Check out hours and prices here. It has beautiful trails, bridges, and picture locations.
Or try the quieter Lynn Canyon Suspension Bridge.. Admission to the Lynn Canyon Ecology Centre that's in the park is by donation (Suggested $2). Lynn Canyon is not as well known, therefore less busy, and last time I was there, completely free!
If you really feel like punishing yourself and getting active… do the Grouse Grind – an almost 3 km hike straight up a mountain. Lovingly called nature's stairmaster, it can take 1.5-2 hours for the average person. Or if you haven't been climbing mountains (cough me cough), it might take a little bit longer. Check the park website here – as there is closures over the year for different things and only certain hours you should be trekking up there. The view is worth it though.
3. Gastown
I love walking around Gastown. There is tons of great pubs and restaurants, and little shops as well. The area is overflowing with history, and amazing architecture. You can see the old steam clock in the centre of it all. Gastown gets quite busy at night, as it is a hip spot for all the locals to go for dinner and drinks. Between this area and Yaletown, this is where the magic happens. Right in the downtown area, this is where a lot of the action happens.
However, be careful out and about at night and even in some areas during the day. Gastown boarders the notorious Vancouver Hastings AKA Downtown East Side, where you can find some unsavory characters. If you stay out of their way though, you shouldn't have any problems. If you start bugging people though, or doing inappropriate/unsafe stuff you are on your own! Don't say we didn't warn you!
There is some amazing brunch locations down here and great, trendy pubs. My personal faves were Alibi Room with a great vibe for breakfast – try the salmon benny, or Tuc Craft Kitchen for amazing drinks in a great atmosphere – the food was unreal too!
2. Stanley Park
You can't go visit Vancouver without checking out Stanley Park. The trail system within the park and amazing views are something that cannot be missed. Walking around the park can be peaceful if timed right. Watch out for locals and tourists alike biking, running, or rollerblading around the park. This also holds a couple restaurants, the aquarium, and some great beaches. Stanley park is one of the places I definitely spent a lot of time. If you enjoy getting out doors and breathing fresh air, this is a great place to go!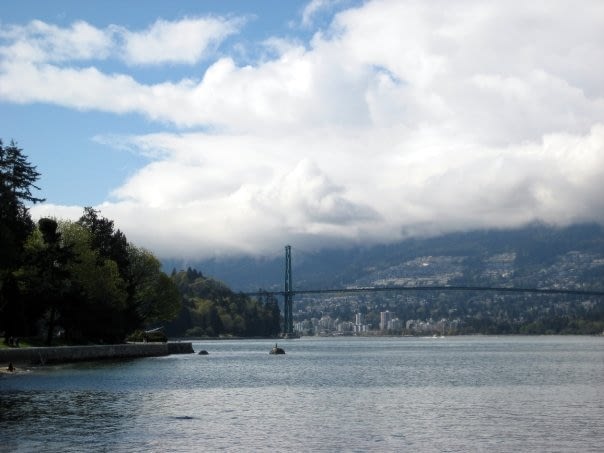 1. Granville Island
Granville Island still remains my favorite place to visit while in Vancouver. It has an amazing fresh produce and crafters market. There is also an abundance of restaurants and little places to eat local, the Granville Island Brewery, water taxis, great views, and so many things to check out. It is a bustling little area in the centre of Vancouver, just across the inlet from downtown Vancouver. I enjoy heading down here for a bite to eat, and to grab souvenirs, and fresh food. Maybe stopping for a beer on the way, just cause!
Well, that ends it. My 10 favorite finds for Vancouver. You could easily spend a week in Vancouver exploring, but it is also perfect for a weekend getaway, dependent on your location in the world. Vancouver is easy to get around in with an abundance of public transportation (Taking the skytrain from the airport can save you a lot). You can get a day pass for roughly $10 and then it is an extra $5 for the airport (Canada Line), which ends up being a lot better than the cab ride which would run you probably $50 and up depending on where you are going.. If you only have 24 hours check out our blog on the 24 Hour Vancouver Layover! You can read it here.
If you have any questions, or places you think should have made the list, send me a message or add a comment! I will happily answer any questions, and enjoy your stay!
Related articles across the web